Meet Karina Rua, a sizzlin' 40-year-old sister-of-the-leaf (#SOTL) from New Jersey. Born in the Dominican Republic, this smokin' beauty is a perinatal sonographer who smokes cigars about once or twice a week.
"I took an interest in cigars about 3 years ago through my sister and her husband," Karina revealed, "I had tried for fun in my younger years but never really took to it. But I tried a full body Cuban and realized what I had been missing."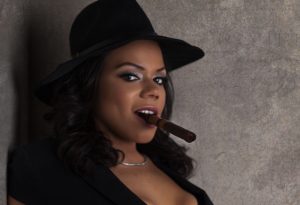 This gorgeous Dominican dame has grown so fond of cigars that she is already looking into starting her own brand, but with a unique twist.
"My enjoyment of cigars has opened my mind to the possibility of adding to my career realm," she explained. "I would love to create a line of cigars for women who, like me, prefer the small width."
Like a lot of cigar smokers, Karina's precious time alone with the leaf is used to relax and reflect.
"I like to unwind with a glass of wine, or if it's been a rough week, whiskey should be poured," she said.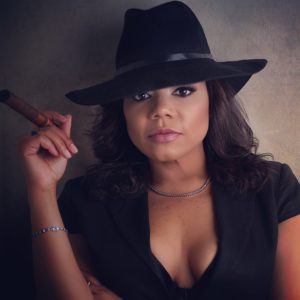 This Dominican heartthrob likes to frequent her favorite haunts around the tristate area with New York and New Jersey being her go-to locales.
"My favorites are Papa Juan, Harlem, NY, La Hoja Cigar Room, Fort Lee, NJ and Don Donato Cigars in Hoboken, NJ. I also like to smoke by the water in New Jersey and look at the New York skyline," she said.
What does Karina like to smoke while puffin' on the Hudson?
"My all-time favorite cigar is the Oliva V series Melanio Churchill," boasted Karina.  "It's the perfect size, has a great med-full bodied flavor and the draw is smooth."
She went on to say, "I've recently tried a local house blend at my brother in law's lounge in Harlem, Papa Juan Cigar Room. It is a very nice Dominican blend."
When traveling, this wanderlust insists that she hunt down local establishments when in foreign cities.
"I try to find cigar lounges whenever I go away to other states or countries. It's amazing to see how different and alike all at once we all are when it comes down to the simple pleasures of life like cigars and drinks," noted Karina.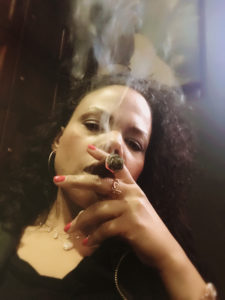 There is no doubt that Karina adds plenty of sex appeal to the cigar industry. Her feminine persona is a welcomed treat in the testosterone filled lounges.
"I feel it adds to a woman's sex appeal 100%," Karina proclaimed. "Men feel that they can share an experience with a woman who smokes. They may not like to admit it all the time, but men love a woman who isn't afraid to meet him at his game and bring her 'A' game like the best of them."
She went on to say, "Nothing says confidence like a woman partaking in a man's fun times. I'm not intimated by this being a 'man's world'. I just work a little harder at adding a 'woman's touch' to all I do – especially cigars and whiskey."
Karina definitely deserves to be this week's Sizzlin' Sunday Cigar Girl. She is a gorgeous, confident gal who loves the cigar culture.
"Being a woman who smokes cigars is a fun and interesting experience. Some people are shocked to hear that I smoke cigars because it's not common and others are just so intrigued by it."