Meet Jennifer Jennings, a sizzlin' 47-year-old divorced sister-of-the-leaf (#SOTL) from Jacksonville, Florida. Jennifer, who works in geriatric nursing for military veterans, is originally from Summerville, NC. She is a life-long Southern Belle who loves football and smoking cigars.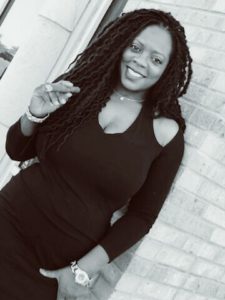 "I have only been smoking cigars for a little over two years," revealed Jennifer.  "I have a sweet tooth for flavored cigars. The maduro wrapped are usually my go-to cigars."
Jennifer is a smokin' beauty who has a divine passion to educate and help those who suffer from mental health illnesses. She values the importance of living a stress-free life through relaxation and conversation.
"To relax I wrap myself up a cozy blanket on my leather recliner and read all types of books," expressed Jennifer. "I also like to walk the beach, and of course, I love smoking cigars."
She owns a healthcare business and is studying to become a psychologist. She is the founder of a book club called "Divas Read Retreat," a foundation of women empowering each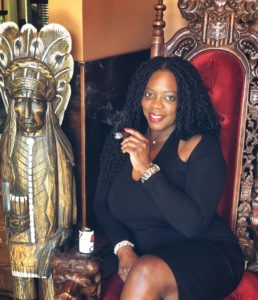 other by sharing stories to enrich the lives of other women.
"My passion is in mental health – specifically the importance of recognizing that it is a major issue that must be discussed opening and dealt with in the African American community," explains Jennifer.
This lovely lady-of-the-leaf (#LOTL) also loves her hometown Jacksonsville Jaguars football team.
"I am the youngest of 12 siblings, two of which were NFL players with over 25 years combined experience in the league, which I'm sure is the reason I love football," she said.
Jennifer's favorite cigar is the Gurkha Evil and she loves to pair her smokes with Woodford Reserve, Red Electra Moscato and Old Fashions (made by her favorite bartender at Aromas).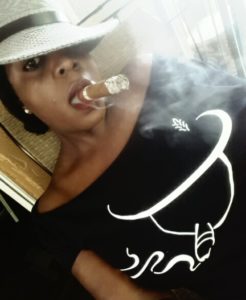 There is no doubt that Jennifer is a gorgeous gal who exudes plenty of sex appeal. Her adorable face and rockin' body are damn near irresistible. However, its her illuminating smile that will weaken the knees of even the strongest man.
"I honestly think what's sexy about it is that I represent the women that aren't afraid of entering an arena dominated by men," said Jennifer. "There is a growing population of women's groups- for example Stogies & Stilettos which I have quite a few friends that are members."
Clearly Jennifer is not an amateur. She is a knowledgeable #SOTL who appreciates the life and culture surrounding cigars. She is a member of and frequent patron of Aromas Cigar Wine and Martini Bar (www.aromascigars.com). She is usually there at least three times a week. She also enjoys spending time at Downtown Cigar Lounge in Jacksonville (www.downtowncigarlounge.com).
There is no doubt that Jennifer Jennings deserves to be this week's Sizzlin' Sunday Cigar Girl. She is an absolutely gorgeous woman who helps her community, US military veterans, and those suffering from mental illness. Plus, she loves smoking cigars. Jennifer may be the woman of every man's dreams – football, cigars, whiskey and philanthropy.