Meet Sonia Emily Daliz, a sizzlin' 32-year-old sister-of-the-leaf (#SOTL) from Bronx, New York. This smokin' hot beauty, more commonly known as "Emily", has been smoking cigars for more than ten years.
"I had my first cigar with my father who loves cigars," explained Emily. "I spent my summers as a child in Puerto Rico with my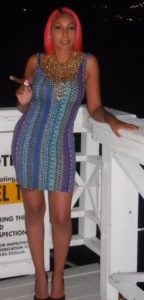 grandparents, and my grandfather always had a cigar in his mouth. I guess it runs in the family."
Despite her long-standing love affair with cigars, Emily does not like to play favorites. She loves to play the field and enjoy the satisfaction that different flavors bring her from different sticks. However, she does have one particular beau that she has been obsessing over lately.
"I do not have a favorite as there are so many I haven't tried yet, but I will say that my current obsession is el mejor espresso," Emily revealed.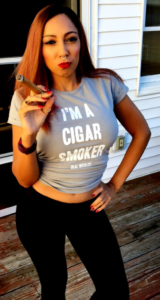 Many guys love beautiful women who drink whiskey and Emily is one of those gals.
"I'm a whiskey kind of girl so jack Daniels is always my favorite! I also like craft beer," she stated.
Emily, who also loves live music, traveling, and museums, smokes occasionally on her deck at home, but has not yet smoked in a cigar lounge. However, it is at the top of her "To Do List".
Emily is one of those smokin' hot dames that men drool over in cigar lounges. Her rockin' body, gorgeous face and intriguing interests are impossible to ignore. There is no denying the fact that Emily brings plenty of sex appeal to the cigar industry despite her modesty.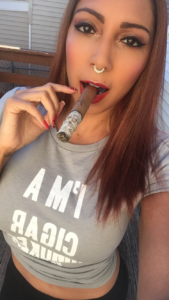 "I've received compliments just this year on my posts. I smoke because I enjoy it and if others enjoy me sharing my passion that is just an added bonus," Emily responded.
Even with her intoxicating beauty and deep passion for the leaf, Emily was not always greeted warmly by naysayers. In fact, she had to overcome plenty of stereotypes and adversity as she struggled to find acceptance within the cigar culture.
"Whenever I would tell someone that I smoke cigars and like whiskey I would be asked if I was a 40-year-old man, so I never really considered that someone might find it appealing," Emily confessed. "I often hear the word 'masculine' whenever a woman and cigar is mentioned."
Emily's journey has proved fruitful today as she enjoys plenty of compliments while making life-long memories through the magical powers of the cigar. There is no doubt that this gorgeous gal deserves to be this week's Sizzlin' Sunday Cigar Girl.
"Smoking is my passion and I would love to see more ladies smoking cigars," expressed Emily.
Don't forget to follow Emily through her journey on Instagram @dalizimo