Meet Elizabeth Bell, a sizzlin' 38-year-old sister-of-the-leaf (#SOTL) from Baltimore, Maryland. Often referred to as 'Ebell', Elizabeth has been smoking cigars for the past four years.
"My interest in smoking cigars started about four years ago," explained Elizabeth.  "Although I don't proclaim myself to be a cigar aficionado, I am very enthusiastic about the culture itself."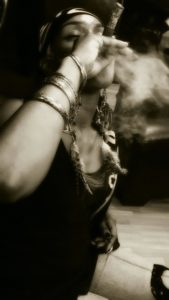 Throughout the past four years, Elizabeth has developed quite a passion for the leaf. So much so, that her life's most pleasurable experiences usually involve a cigar and a camera.
"My most pleasurable experiences are the moments that are captured through the lens of a camera while enjoying a smoke at the moment," Elizabeth revealed.
Chances of hanging with this smokin' beauty in a local cigar lounge is slim to none, but when she does decide to pop in and nestle herself into one of those over-sized chairs, it is usually at one of four choices.
"There are a few lounges that I tend to smoke in; however, very rarely hang in. But, those that are amongst my top picks to enjoy a great smoke would be Cigars 210, Aphelion, S.M.I.B. and The Burnt Leaf – all in Maryland," Elizabeth announced.
Elizabeth's passion for the leaf has grown to the point that she loves exploring new brands, blends and vitolas. Through this exploration, she has developed a refined palate that has allowed her to hone in on a favorite stick.
"My favorite cigar is the Oliva Master Blend 3 Maduro," Elizabeth stated. "It is full bodied with a Nicaraguan wrapper. The first time I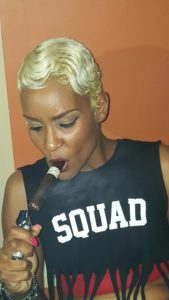 had this cigar, I think my palate fell in love – a very earthy taste with notes of coffee."
A few other cigars that she has fallen in love with are Eiroa by CLE, Rothschild Illusione, and the Queen B by Fuente.
The ultimate cigar experience often involves booze and this sexy dame would have it no other way.
"I would love to say that I am a connoisseur of all types of drinks; however, I'm not and I usually stick to the browns such cognac, Scotch, whiskey, and bourbons," she said.  "My favorite drink is ABK6 VSOP, which is a cognac and is very smooth in taste."
There is no doubt that this gorgeous lady-of-the-leaf (#LOTL) adds plenty of sex appeal to the cigar industry. In fact, her beautiful face, rockin' body and chic sense of style make her damn near irresistible. However, she is too humble to boast.
"I feel that almost any woman that genuinely enjoys cigars brings sex appeal to the culture. In fact, more women are beginning to flood and enjoy the lounge life just as the men," she remarked.
Ebell undoubtedly deserves to be this week's Sizzlin' Sunday Cigar Babe. She is a smokin' hot gal with deep desires for the leaf and unyielding respect for its culture.
"As smoking cigars is very much so relaxing, we tend to find that space of comfort in order to unwind in the moment."