Meet Drida, a 40-year-old sizzlin' sister-of-the-leaf from Charlotte, North Carolina. Originally from Southern California, Drida is a human resources professional who spends her free time traveling, modeling, shooting at the range and smoking cigars.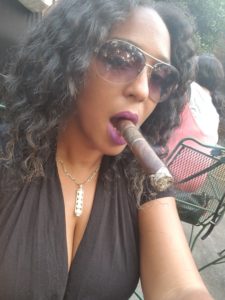 "I don't smoke daily but I average about five cigars a week," she said.
This smokin' beauty began smoking cigars when a friend, who owns a cigar lounge in Maryland, gave her her first cigar, an Acid Blondie.
"I was not a smoker of any kind prior to this introduction so I was somewhat hesitant," Drida revealed. "I was pleasantly surprised as to how much I enjoyed the cigar. The flavor of the cigar got me and I started smoking independently immediately after that."
Like many cigar smoker, this smokin' beauty doesn't have one favorite cigar, but she does have a few go-to sticks that she adores.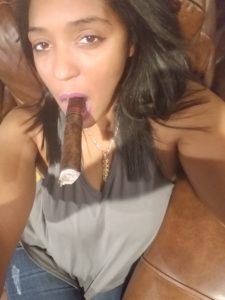 "My prefered flavor profiles have matured since my first infused cigar and thus, my Top 5 cigars now are the LFD Oro, Liga T52, Dilligaf Evil Bastard, Ashton VSG and the CAO Basin," she said.
Her favorite vitola is the 5 x 60 and she loves to pair them with whiskey, especially Crown Royal Apple.
There is no doubt that Drida is a very beautiful woman. Her sex appeals ramps up 10 fold when she locks her lips around a cigar; however, it her true passion for the leaf that men admire.
"The feedback that I often get is that I exude sex appeal when smoking cigars, although this is not the intent," explained Drida.  "I am comfortable with the classy woman I am and my ability to be feminine while smoking with the guys.  I value the feedback from the men at the lounge when the say that they know that I am a "real cigar smoker" and not there to be picked up by men. My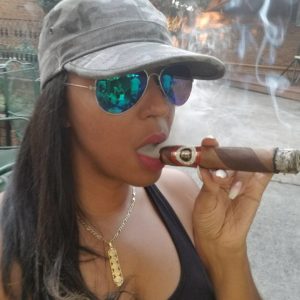 knowledge of cigars and the overall cigar industry is growing and I take pride in that."
Drida loves to visit different cigar lounges but she frequents her local haunt in Charlotte, NC the most.
"I have traveled to a couple of states with the intent of experiencing different cigar lounges and meeting SOTL & BOTL.  Locally, my home lounge is Cigars Etc. in Charlotte, NC and I can be found there 2-3 times a week. I feel at home there and they take good care of me."
She went on to say, "I have also tried a few lounges in  Maryland, DC, Florida and most recently Atlanta such as Cigaros, Cigar City Club, Kings Cigar Lounge, and  617. I love to check out the various way they are set up, décor, humidor, the type of people, met the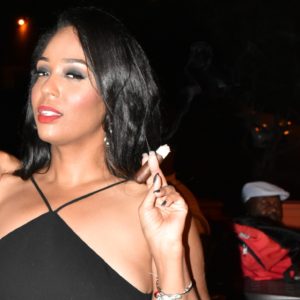 owners, etc."
As Drida's knowledge and passion for the leaf grows, she hopes to be more involved in the cigar industry.
"After posting pictures on Instagram, I have been contacted a few times by other women who would like to be exposed to the cigar lifestyle. They seem to be intrigued and want to learn more.  I am considering starting up a cigar etiquette group for women where we will teach the basics (selection, how to light, cut,etc) and  will have vendors to come out and educate about their line.  I am also entertaining the idea of helping some companies with their marketing by doing cigar modeling for them.  I have a photo shoot coming up so we will see how it goes!"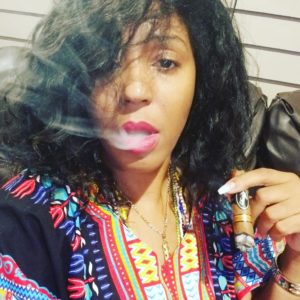 Drida definitely deserves to be this week's Sizzlin' Sunday Cigar Girl. She is beautiful, passionate and absolutely adores the cigar lifestyle.
"Flavor aside, the other draw to smoking cigars was the feeling of being a part of the elite, the networking and building of new friendships. The lounge is my favorite place to go at the completion of a hectic or stressful day."