Meet Diony Paz, a sizzlin' sister-of-the-leaf who has been smoking cigars for more than 20 years and considers herself a "true cigar diva."
"I not only smoke, but study each cigar – its region its taste and wrapper," expressed Diony. "I have become a cigar aficionado who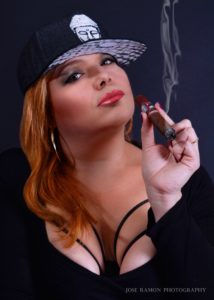 enjoys smoking a cigar in a very classy way."
Her foray into the enchanted world of cigars is unique. Diony is of Honduran descent and grew up around tobacco. Her great grandparents had a small tobacco farm in Honduras and many of her childhood memories stem from unforgettable moments frolicking among the tobacco plants.
"Through the years, I got to experience the process of a cigar and the value of its true art," boasted Diony.
This classy dame broke into the American cigar industry back when women were not 'accepted' into the culture. It was not fashionable at the time. In fact, female smokers were frowned up and often ridiculed.
"I did not get many accolades being a woman during my early years of smoking," explained Diony.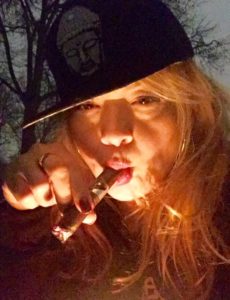 "Back then it was considered more of a smoking jacket gentleman's hobby."
Diony fought through the stereotypes and took it upon herself to learn about the industry.
"I began to study more about the different brands and the process behind the cigar. I learned the true essence of cigar smoking," she said.
Today this smokin' beauty considers herself a 'bold smoker', enjoying strong, bold and robust smokes.
"I am a bold smoker. Some of my personal favorites are Padron 50th Anniversary, Arturo Fuente Opus X Lost City, Liga Privada No. 9 and Gurkhas," Diony revealed.
Diony doesn't like to smoke alone. While smoking, she enjoys sharing her experience with a dram of Jack Daniels or a glass of Merlot by Coppola.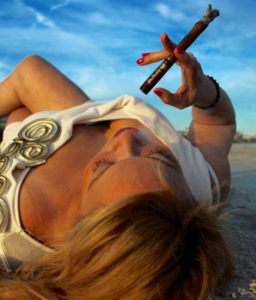 Diony is a strikingly beautiful woman who adds plenty of sex appeal to the cigar industry. Her gorgeous face, rockin' body and sultry lips exude a desire beyond words. Plus, her class and sophistication enhance her allure unlike any other.
"As a woman, I have sex appeal; however, it's a woman's lips that show the beauty of the art of smoking a cigar," stated Diony. "It is how the smoke is experienced in your mouth."
Diony added, "When I take pictures I try to show the sexiness of a woman, but also the sophistication and the art of a woman experiencing the smoke."
This gorgeous gal undoubtedly enjoys the sensuality of the cigar experience.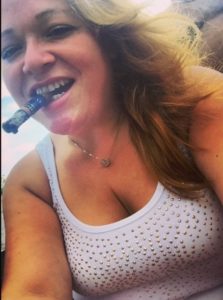 "A cigar is one's own art form, from the first smell to the way you cut and light it. The way you puff, savor and experience the way a cigar sizzles in your mouth is your own one of a kind experience," said Diony.
There is no doubt that Diony deserves to be this week's Sizzlin' Sunday Cigar Girl. She is a stunning woman who absolutely loves the art, history and culture surrounding the leaf. Plus, her courage to fight off gender stereotypes during a time when the 'boys' club' didn't accept her is admirable.
"It's wonderful to see women getting more welcomed into the cigar industry; however, I think smoking a cigar should never lose its sophistication."