Meet Deana, a sizzlin' 44-year-old sister-of-the-leaf (#SOTL) from Baltimore, Maryland. Deana is an avid lover of the arts who fell in love with the leaf more than 10 years ago.
"I first tried a cigar 10 years ago in Miami while on vacation," she revealed. "I fell in love with them and now smoke two to three times a week."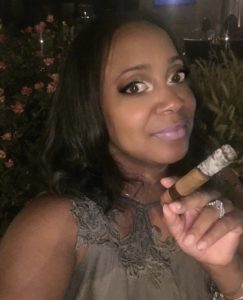 This smokin' beauty's adoration for cigars has grown so fondly that she has built a cigar lounge and wine cellar in her home.
"I love cigars and wine so much I have a cigar lounge in my home and separate room for a walk-in humidor/wine cellar."
Some of her favorite cigars are My Father, Padron, La Aroma de Cuba, and Tabak Especial. Like most cigar enthusiasts, Deana enjoys pairing her smokes with a coffee or wine.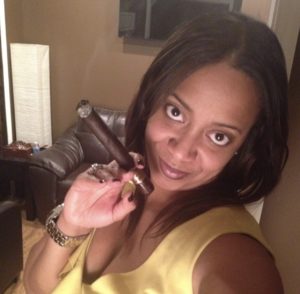 "If I'm smoking a bold cigar I usually pair it with a spicy red blend wine. If I am smoking a Tabak Especial, I like to drink a flavored spiked coffee," she noted.
Deana enjoys smoking in lounges, but it is the alone time with her husband that she cherished the most.
"Smoking cigars relaxes me. My husband and I usually find it a great way to spend time together and have good conversations," she explained. "Our relationship continues to grow from our cigar talks. If I do go to a cigar lounge, I am most likely to go to Burnt Leaf Cigars, Cigars 210 or Dan's Cigar Lounge all located in Maryland."
There is no doubt that Deana exudes plenty of sex appeal. She is a beautiful, industrious and confident lady-of-the-leaf (#LOTL) who enjoys the finer aspects of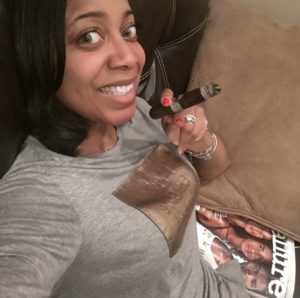 life.
"I love the sex appeal being a SOTL brings to the cigar industry. I get all kinds of stares in public" she boasted. "As a female, Smoking cigars is empowering, bold and a way to connect to all walks of life together. I have never been anywhere and not had a good conversation over a cigar."
Deana is a self-employed consultant in healthcare administration who also owns two Paint and Sip studios. Her zest for travel has taken her to Ibiza, Paris, Panama, Dominican Republic and beyond. She hopes to create her own brand of cigars soon.