Meet Danielle, a sizzlin' 46-year-old sister-of-the-leaf (#SOTL) from New Jersey. Danielle is a sexy dame in law enforcement who loves smoking cigars.
Danielle's world has become much more exciting since she smoked her first cigar in 2015. The welcomed treat was a life-changing experience that she looks back on fondly.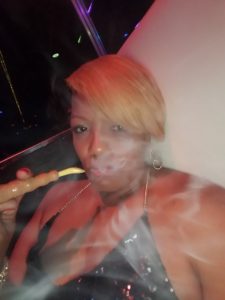 "I had my first cigar in May 2015," Danielle recalls. "It was a hand rolled cigarillo dipped in cognac. It was absolutely delicious on my lips."
Like many cigar smokers, this smokin' beauty loves to pair her sticks with a tasty cocktail. Typically, her poison of choice is clear spirits like vodka and tequila.
"I love white," boasted Danielle. "My favorite go-to alcohol is Vodka, sometimes Tequila. But I have also occasionally drunk Cognac."
Danielle is certainly quite alluring. One would definitely not mind getting strip searched by this fire fox in blue. Her sultry lips and bedroom eyes perfectly compliment her buxom body.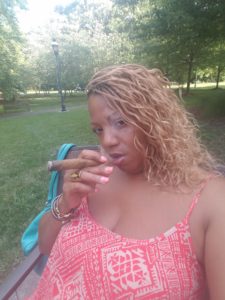 "Absolutely! Without a doubt do I add sex appeal to this industry," said Danielle.  "What's better than a nice drink, good cigar, and great conversation with beautiful women?"
Danielle likes to nestle in over-sized leather chairs that litter her local cigar lounges. A few of her favorite haunts are Burnz in Lawnside, NJ and Railroad Cigars in Newark, NJ. However, Smoke in Manayunk, PA has recently caught her attention.
Danielle definitely deserves to be this week's Sizzlin' Sunday Cigar Babe. She is sexy, smokey and loves the cigar life.
" I want the women not to be afraid to try something new. You'll definitely make some new friends in this cigar world, but you might just enjoy it as well," noted Danielle.