Meet Courtnie Boykin, a 41-year-old sizzlin' sister-of-the-leaf (#SOTL) from the River City of Memphis, Tennessee. Since transplanting the Atlanta, Georgia, this Southern Belle has fallen head –over-heals in love with cigars.
"I began smoking nearly six years ago on a sunny beach in Panama City, Florida," revealed Courtnie. "My very first stick was a Tabak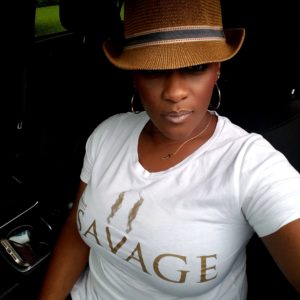 Café con Leche, and that remains a favorite to this day."
Courtnie has developed a deep admiration for the leaf ever since that fateful day in sunny Florida. She has become a daily cigar smoker who started SmokeHouse Cigars – a mobile cigar lounge in the metro-Atlanta area.
"I created the business two years ago as a mobile pop-up/cigar bar, concentrating on private and corporate events," explained Courtnie. "SmokeHouse Cigars provides spirit pairings (Scotch, Whiskey or a great Port), personalized event additives and a Cigar Etiquette 101 class for novice smokers."
SmokeHouse Cigars is expanding. In a couple of months cigar smokers will be able to enjoy Courtnie's hospitality at a brick-and-mortar lounge.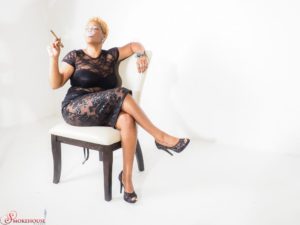 "SmokeHouse Cigars will be opening a cigar bar and lounge in the fall of 2017," boasted Courtnie. "I will be partnering with a phenomenal brother-of-the-leaf, Mr. Andre Owens, to bring SmokeHouse Cigars of GA to the city of Atlanta. We will be a full-service lounge with the best premium cigars and entertainment."
Like most cigar lovers, Courntie enjoys pairing her cigars with a fine cocktail. Her poison of choice is GlenLivet 12yr or 14yr or a refined Port wine. However, when not smoking, Courtnie prefers 1800 Silver Tequila.
Courtnie Boykin definitely adds plenty of sex appeal to the cigar industry. She is a classy woman who looks F.I.N.E. Her beautiful face and rockin' body accentuate her poise and stature perfectly. She is definitely a welcomed treat in the cigar industry.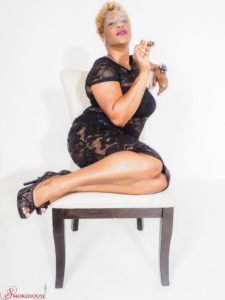 "I certainly feel as if I add a dose of sex appeal, as well as, class and sophistication, to the cigar culture. Each of those elements is a part of the SmokeHouse Cigars brand and experience," she said.  "I also want my fellow sisters-of-the-leaf to know that this is a business that represents the substance behind the beauty and sex appeal."
Outside of cigars, Courtnie enjoys traveling, athletics, and networking with fellow brothers and sisters of the leaf. She is also currently in school pursuing her Doctorate in Public Health.
"I have become an aficionada in my own right and am continuing to develop my palate with both major labels and boutique brands."