Meet Christine, a sizzlin' sister-of-the-leaf (#SOTL) from Southern California. This smokin' beauty, commonly known on social media as "Smokey Affair," is enjoying her 'flirty 30s' one cigar at a time.
I've been smoking cigars for about three years, but the tradition of cigar smoking goes back even further than that in my family," explains Christine. "Relatives gathering together to enjoy a fine cigar in the company of loved ones was a staple during family functions and I remember being drawn to the aromas it would give out."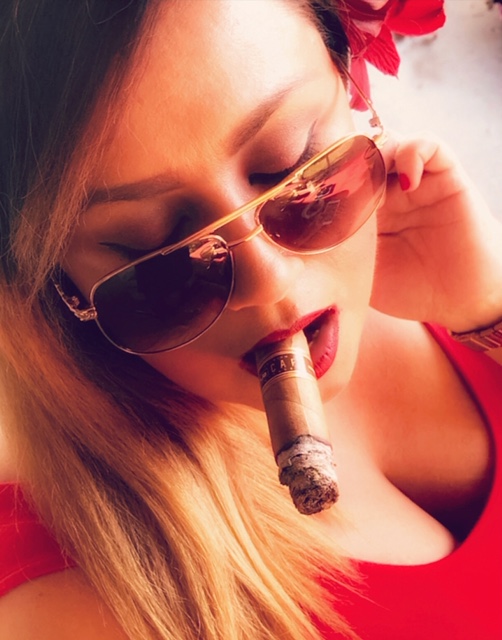 Today, she smokes 'several times a week' and has begun doing some brand promotions as well as promoting and attending many events.
Like many cigar enthusiasts, 'Smokey Affair' doesn't have a favorite cigar because, "there are so many great ones and what I choose to smoke just depends on my mood at the time."
She feels the same way about her libations.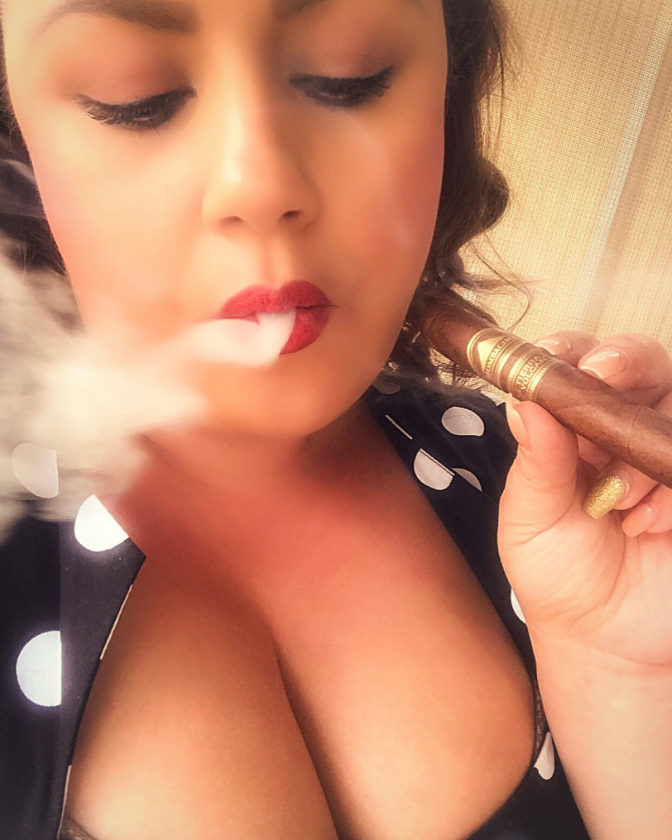 Like with my cigars, I am quite versatile with what drinks I pair with them. I can enjoy a Manhattan one day, a margarita on the next, or if the mood calls for something more casual, an iced cold beer."
There is no doubt that Christine adds plenty of sex appeal to the cigar industry. She is a buxom babe with an intoxicating look, inviting eyes, and luring lips. However, she is too humble to boast about her beauty.   

"Cigars are sexy all by themselves and people are constantly drawn to the lifestyle that comes along with it," she proclaims. "They don't need me to make them sexy." 

Christine definitely deserves to be this week's Sizzlin' Sunday Cigar Girl. She is a gorgeous gal having a smoky affair with the leaf that she loves. If you are in California, perhaps you will run into her at one of her favorite haunts.
"I love traveling to different cigar lounges. Some of my favorites being Lordsburg in La Verne, Lord Puffer in Escondido and Eight88 in Fullerton. All in California. While these 3 lounges are each unique in their own way, the common factors that keep me coming back are the unbeatable atmospheres as well as the variety of cigars offered."