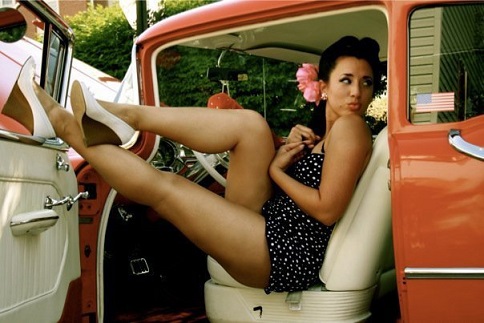 Meet Cheryl Desere'e, a sexy 32-year-old gal of Samoan and English/Irish decent who hails from Nashville, Tennessee. This devilish dame considers herself a nonconformist who always looks for a way to 'customize' every aspect of her life, and cigars are just one element.
"When I'm home I can usually be found sitting outside with my guitar, a notebook, a smoke and a drink," said Desere'e. "Creating empowers me. It reminds me of my strength, my worth and it closes the gap between my heart and my brain. All of that leads to me feeling like an epic badass."
Cheryl is an extremely talented singer/songwriter who focuses on traditional country music – singing about the common man. Some of her fan favorites are: "Cactus Flower," "Keep My Name Off Your Lips," and "Walk of Shame." She and her band, Subtle Tease Band, have been touring around Nashville playing at local hot spots.
Cheryl has always been considered a 'guy's girl' who started smoking cigars about seven years ago. Unlike most girls, this sister of the leaf (#SOTL) prefers to sit around with the fellas telling dirty jokes rather than make superficial small talk with the girls.
"One particular night, I was hanging out with my dear friend, Eric Moon," said Desere'e. "We were drinking bourbon and I tried his Rocky Patel 1964 Anniversary. I was hooked."
In addition to smoking plenty of cigars and singing, some of her other passions include cooking, baking, dancing, hosting parties and refinishing furniture.
There is no doubt that this seductive muse brings much needed sex appeal to an otherwise male-dominated
industry that is starving for a little sensual eye candy in its testosterone filled world.
"I suppose as a female I'm still a bit of an anomaly in the cigar world," Desere'e said. "If I exude sex appeal, it is because one is only as sexy as one feels inside."
Cheryl doesn't frequent many cigar lounges, as she prefers to smoke at home, but when she does, she is certainly a welcomed treat.
"I have been to a couple lounges in PA with my friend Eric, but I am not much of a follower," said Desere'e. "The party is where I am."
Like most experienced cigar smokers, Cheryl favorite cigars must be rich and complex sticks with plenty of depth. She prefers a dark, oily Maduro paired with red wine or coffee. She also loves to smoke while munching on chocolate or digging into a hearty steak.
"Two Vines makes a nice Cabernet Sauvignon and I like Mezzacorona Pinot Noir," she said. "If I'm having a morning smoke I drink Sumatra or espresso roast coffee."
It is definitely fair to say that Cheryl Desere'e deserves the honors of being the 'Sizzlin' Sunday Cigar Babe' of the week.
"You know what is sexiest of all? Being really, truly, wholly who the hell you really are," said Desere'e. "Never apologize for it."
If you would like to follow Desere'e and her music career, you can follow her on Twitter @StepfordBunny or on her website, www.CherylDeseree.com. Her band's Twitter handle is @SubtleTeaseBand.
Here are a couple of Cheryl's Songs