Meet Cecile Maiko, a sizzlin' sister-of-the-leaf (#SOTL) from Houston, Texas. Cecile, most commonly known on social media as @Cigaress, works in the oil/gas/petrochemical industry full-time, but has spent the past 10 years working part-time as a hostess/tobacconista at Smoke Ring cigar lounge in Sugar Land, Texas.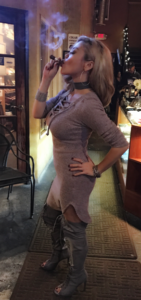 "I've had a passion for the leaf for 10 years, since I started working at the Smoke Ring in March of 2007," said Cecile.
Cecile usually smokes on the weekends but has known to spoil herself on occasion during the week after work. Her favorite cigar depends on her mood; however, her choice in ring gauge very rarely exceeds 50.
"I choose cigars according to my mood," she stated. "If it's Sunday brunch Ill go with something light like an AKA Solice. If I'm celebrating I'll go with something like a Padron 1926. If I'm relaxing at home after work maybe I'll have an H. Upmann."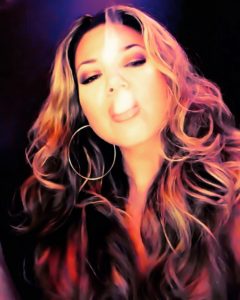 She went on to say, "Size does matter when it comes to cigars and their flavor. I don't care much for ring gauges larger than 50."
Like most cigar smokers, this smokin' beauty loves to pair her smokes with a fine libation. Her poison of choice is rum.
"With a smoke, I prefer a good dark, unspiced rum with rocks," Cecile confessed. "I prefer Ron Santiago de Cuba 11 anejos, Zacapa XO, or Flor de Cana 18 years."
There is no doubt that Cecile adds plenty of sex appeal to the cigar industry. Her gorgeous face and smokin' hot body are irresistible. The question is, 'Does she feel the same way?'
"Absolutely! Most envision men like George Burns or Winston Churchill as cigar smokers.  I'm definitely a girly girl who loves makeup, dresses, heels, etc. somewhat dissimilar from those great men," she boasted.  "I've seen the industry change within the last 10 years and more women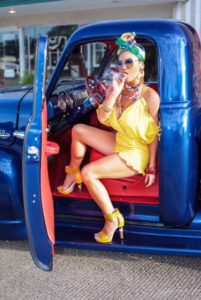 becoming a part of the cigar lifestyle. The evolution of women's rights and empowerment is a beautiful thing especially in male dominated industries."
Some of Cecile's interests other than cigars are doing yoga, traveling, beach activities and spending time with her dog, NaNa, a Japanese Chin.
Cecile undoubtedly deserves to be this week's Sizzlin' Sunday Cigar Girl. She is a gorgeous gal who absolutely loves cigars and the lifestyle.
Her favorite quote is by Davidoff. "The Good Life – that is the art of living. A culture of its own that revolves around taking time, perceiving the world with all the senses in order to experience the fine nuances of pleasure."