Meet Ashley, a sizzlin' hot 27-year-old sister-of-the-leaf (#SOTL) from Waverly, Iowa. This self-proclaimed "big geek" has had a lust for cigars since she was 18-years-old but didn't start smoking them until three years ago.
"I always had the love for the smells of tobacco as my father smoked a pipe growing up," Ashley revealed. "The first time I smelled a cigar I knew this is something I was going to enjoy; however, I really didn't get into cigars until the past three years."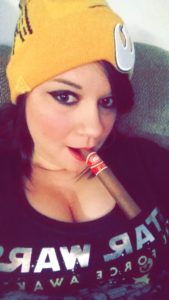 Ashley's introduction to the cigar world was similar to many of today's smokers. She started with infused and flavored cigars like Drew Estate's Acid and Natural lines or CAO Flavors; however, that quickly changed once she dabbled with more traditional cigars.
Today Ashley prefers a medium-bodied cigar and smokes three to five a week. Her favorite vitolas are the lancero and robusto. She credits her boyfriend for enhancing her knowledge and passion for the leaf.
"He is a very avid cigar smoker and a great teacher. It's a great hobby for us to have together and for me it's a great way for us to spend our time," said Ashley.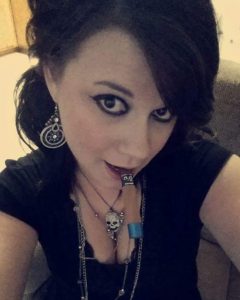 Cigars are a great means of connecting with people but this smokin' beauty's interests include an exciting array of activities . They range from mild to wild with a twist of geekdom.  
"I would consider myself a pretty big geek to a full on sports fanatic," explained Ashley. "If you were to ask my friends and family about me they would tell you I'm one of a kind."
Some of her interests include sports, rock music, video games, politics and comic books. "My friends say I'm a girly girl with a male's personality," she noted.
Another one of her interests is alcohol. She loves to pair her smokes with vodka.
"I really enjoy vodka. My two go to drinks are vodka sours or Moscow mules. I also enjoy wine," Ashley expressed.

Despite backlash from her critics and her own humble personality, Ashley definitely adds plenty of sex appeal to the cigar industry.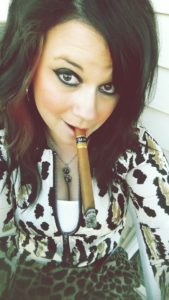 Her bedroom room eyes and adorable face can attract any man.

"For the longest time I was the only woman I knew who smoked cigars so any females that I did know told me that it was so disgusting and unattractive for a female to do such a thing," Ashley exposed.
She went on to add,  "I'm just me and I'm not one who reeks of sex appeal. I just do what I enjoy. I'm okay with it. I have this nerdy quirky way about me and that's howI  roll."

Iowa does not have many cigar lounges but that doesn't stop Ashley from traveling more than three hours to smoke at the closest cigar shop to her home.

"You bet your sweet bottom I do [smoke in lounges]. The closest lounge to me is about 3 hours away," she said. "I love it because once a month I get to go on a little getaway with my man. We spend the whole weekend relaxing at our favorite Iowa lounge, David's Fine Tobacco. It's really the perfect way to spend a weekend, what more could you want?"
There is no doubt that  Ashley deserves to be this week's Sizzlin' Sunday Cigar Girl. She is beautiful, quirky and loves cigars.
"I'll admit that I'm no expert and still feel lost in learning about cigars but I love the cigar world and am always trying to learn more."