Meet Angela de la Garza, a sizzlin' 39-year-old sister-of-the-leaf (#SOTL) from Littleton, Colorado. Angela is a very beautiful woman who has several interests in life that she is very passionate about, including smoking cigars.
Angela, who has been smoking cigars for more than seven years now, loves weightlifting, running, roller skating, traveling and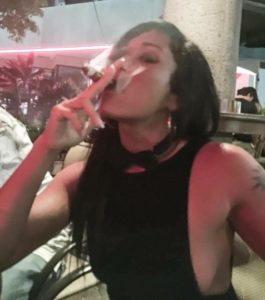 reading.
"I have been a weightlifter for 26 years, been running since I was 5-years-old and was a semi-professional roller derby skater for the Rocky Mountain Rollergirls in Denver, Colorado," said Angela.
Angela was voted Rookie of the Year after her first year as a Rollergirl and went on to become a two-time National Champion. Unfortunately, her career was cut short due to excessive brain injuries. Today she still skates regularly and runs 4-7 times a day because it makes her "feel free and happy".
This athletic gal is a bit of a wanderlust and bookworm as well.
"Traveling is another interest of mine," said Angela. "I love to feel the environment in different places. I love to absorb and observe the different cultures within our country."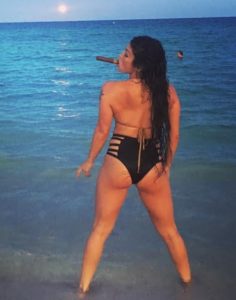 Last year she visited Honolulu, Hawaii and Miami, Florida while this year New York and Washington D.C. are on her radar. As for reading, Charles Dickens and other Victorian era authors tantalize her inner sanctum.
Among her many interests, she loves smoking cigars. This smokin' beauty's current and long-time favorite is the Leaf by Oscar by Oscar Valladares. Since her memorable passage into the cigar world, Angela smokes 3 to 7 cigars during a 'normal' week. That all changes when she is on vacation.
"When I travel, it seems to be about 30 cigars in a week."
Like a true cigar aficionado, Angela doesn't like to pair her smokes with booze.
"I love to smoke my cigars alone, without anything to drink, in order not to distract from its flavor," explained Angela.
Love often stems from unexpected situations, and Angela's love affair with cigars began at a gentleman's club.
"I was somewhat bored and not interested in the entertainment. One of my friends offered me a cigar and I said, 'why the heck not'. I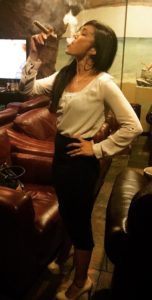 have been smoking ever since," Angela revealed.
Angela's beauty does not go unrecognized in the cigar world. She is a stunning gal who offers plenty of sex appeal. Her beautiful face and flawless body can mesmerize any man. Coupled with a cigar, she is dynamite.
"If people think I am attractive, I am very flattered," Angela professed "I feel that the cigar smoking world is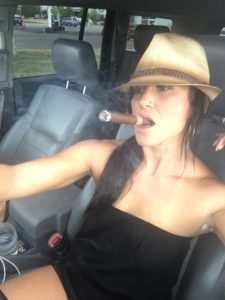 male dominated and it is too bad that the women who are a part of the industry are sexualized because they are female."
Angela enjoys smoking in lounges and mingling with other cigar enthusiasts. Her favorite spot in Denver is the Robusto Room for its upbeat, classy vibe. A DJ spins records, guests engage in game night sing karaoke and watch MMA fights. It's a spacious lounge with a large selection of cigars and entertainment. Some of her other favorite haunts are Capital Cigars and the Smoking Cave.
There is no doubt that Angela de la Garza deserves to be this week's Sizzlin' Sunday Cigar Girl. She is a very sexy woman who loves smoking cigars and enjoying life.