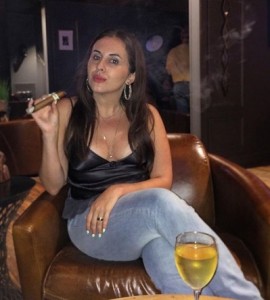 Meet Soraya, a sizzlin' 32-year-old sister-of-the-leaf (#sotl) from New Jersey. Soraya is a classy dame who started smoking cigars about two years ago. She considers herself a "weekend" smoker but occasionally pampers herself with a midweek treat now and again.
This smokin' beauty, who is of Portuguese descent, is a fairly introverted gal who loves to experience life and try new things.  When she is not traveling or working, Soraya spends a lot of her time relaxing with her husband over premium cigars and cocktails. They have an exciting bond where the two of them navigate the world of cigars together.
"Because we are always together on the weekends I started accompanying him (to cigar lounges) and I became enamored by cigars, too," said Soraya.
Soraya feels that smoking a cigar exudes a feeling of luxury and used to smoke with her husband when they went on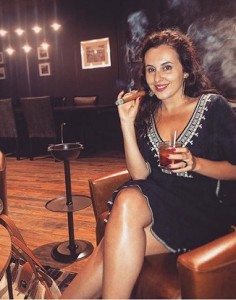 vacation, but for the most part, that was the extent of it.
"It is the kind of thing you would enjoy when you are really trying to relax and unwind," she said.
That is when the couple decided to learn more about the lifestyle. Today, Soraya and her husband spend a lot of time in cigar shops learning, smoking and talking.
Soraya doesn't have a favorite cigar per se but does have a few "go-to" sticks that she enjoys.
"My go-to cigars are usually Nat Sherman, Java or CAO but I also enjoy Monte Cristo and Arturo Fuente," commented Soraya.
She usually sticks with mild cigars but occasionally reaches for a medium-bodied cigar.
"I would love to say that I am one of those badass women who can handle full-bodied cigars, but, I am a lightweight," Soraya confessed. "I lean toward light to medium-bodied but am always up to trying something I have not had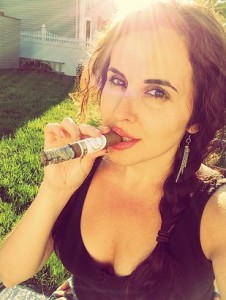 before."
Pairing cigars and drinks has become a bit of a novelty these days. Almost all cigar smokers enjoy finding that perfect combination of drink and smoke. Well, Soraya is no different.
"I love to pair my cigars with sweet drinks like coffee, an Old-Fashioned or espresso with a side of Port wine or some liquor," revealed Soraya.
There is no doubt that Soraya adds plenty of sex appeal to the male-dominated cigar industry. Her elegance adds mystique, her gorgeous smile can illuminate a room and her beautiful face leaves wanton men drooling.  However, Soraya is too coy to boast.
"I'm not sure that I ever think of myself as adding sex appeal but I think any time a woman can hang with the guys and enjoys things that traditionally have always been seen as a 'guy' thing, it is sexy," stated Soraya. "Most women are very sensual by nature and are beautiful to look at so when you combine that with a symbol of power and luxury such as a cigar, it is a pretty enticing visual."
If you are in the New Jersey area, you may run into Soraya and her husband at a local cigar lounge or on an outdoor patio at a restaurant.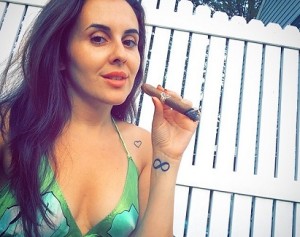 "During the summer I enjoy smoking at outdoor restaurants or in my backyard but during those colder months I am either near my fireplace or at a lounge," she said. "I enjoy small local places like Cigar Emporium in Lyndhurst or Havana's Cigar Vault in Nutley. If I want to eat or have some drinks then JR in Whippany or Jamie's Cigar Bar in Clifton are both amazing."
Soraya deserves to be this week's Sizzlin' Sunday Cigar Girl. She is a gorgeous woman who knows how to appreciate the finer things in life.
"As I have gotten older, I think I have learned to embrace the beauty and indulgences that life has to offer."