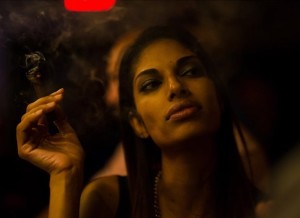 Meet Fariyal Hosein, a sizzlin' sister-of-the-leaf (#sotl) in her early 30s from St. Croix, U.S. Virgin Islands. Fariyal is a beautiful, classy woman who pampers herself with a cigar to celebrate life's grandest moments.
"On occasions, I'll indulge in smoking a cigar to celebrate a birthday, anniversary or a deep conversation with friends," expressed Fariyal.
Fariyal is a sensual woman who has dedicated her career to pampering the modern man. She owns an upscale barber shop where she treats men like royalty.
"My vision for Element Seven Barber Salon is for it to be a place where men can enjoy a relaxing upscale barber experience," said Fariyal.
Fariyal is a fun-loving outdoor enthusiast whom loves all natural settings. She loves to explore new settings during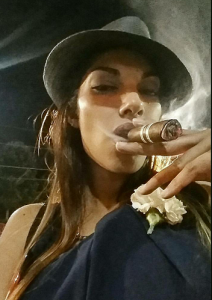 her global expeditions, including beaches, waterfalls, mountains, botanical gardens and lakes. Her zest for cultural exploration has developed her appreciation for ethnic traditions like music and food.
This smokin' beauty has been fond of the leaf for the past two years. She was lured into the life by thick smoke clouds that totally intoxicated her essence.
"What intrigued me more was the allure of the thick smoke spiraling into the air. Probably not what one would guess," confessed Fariyal.
Fariyal loves to be sensual and part of her social routine involves a glass of Pinot Noir, but when she kicks back at a cigar lounge, she does so with whiskey. Her favorite cigar is the classic Montecristo.
"If I am at a cigar lounge, I'll opt for a bourbon on the rocks or a Moscow Mule,"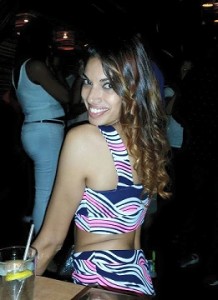 Fariyal revealed. "I prefer a nice lounge over a bar. I guess I am just a classic kind of gal."
Sex appeal: Guys love it and Fariyal has got it. Her tall, caramel-colored physique is nearly impossible to deny and her succulent lips and glowing smile can lure one in like that of a jezebel.  Add a cigar to the mix and that makes for one dynamic gal.
"Yes, I feel any beautiful woman who knows how to have an intellectual conversation with men is an added bonus to the cigar industry. Not to mention, I can make them look their best," boasted Fariyal.
Fariyal definitely deserves to be this week's Sizzlin' Sunday Cigar Babe. She is a beautiful gal with legs that go on forever, a smile that lights up a room and lips that look great wrapped around a cigar.
"I believe life should be lived fully in each individual moment," said Fariyal.