Meet Eryn Johnson, a sizzlin' 36-year-old sister-of-the-leaf (#sotl) from South Florida. Eryn is a wanderlust who has enjoyed extensive layovers in 31 different states and countries including Germany, Bahrain, Kuwait and Afghanistan. Eryn began smoking cigars in 2013, and since then, has smoked at least one cigar a day.  
"My brother taught me how to smoke cigars before I deployed to Afghanistan as a civilian," explained Eryn. "I had just quit smoking cigarettes the year before and was really worried I might fall back under the stresses of mortar fire."
 Eryn and her brother, David Villar, along with their cousin Miguel Villar own and operate Habano BarCafe – home of the Habano Cigar Club – in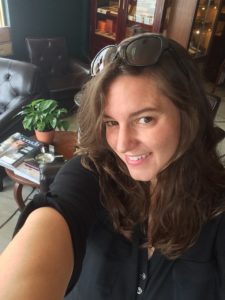 Hollywood, Florida.
 "I have a day job but my heart and soul belong to Habano BarCafe. My family and I just took over this little cigar lounge and the dream is to make it big," said Eryn.
 This smokin' beauty is a self-proclaimed 'tobacconist in training.' She enjoys smoking something different almost every day to refine her palate.
 "How else could I help my customers find the right sticks if I didn't try all of them?" Eryn responded.
 Despite her curious palate, this devilish dame does have a few 'favorite' cigars that she falls back on when she needs an 'old friend.'
 "My very first cigar was a Drew Estate Café con Leche infused cigar and to this day it remains one of my favorites," Eryn noted.  "I always have them in the humidor.  Another regular daily smoke is the My Father Crème #3.  It's an easy smoke from end to end with just enough flavor to remind you of its intended purpose."
She went on to say, "For a quick smoke, the Arturo Fuente Gran Reserva Short Story is always a solid choice.  After dinner, instead of dessert, I'll often reach for a different sweet treat – the Juicy Lucy by Drew Estate.  All that said … nothing says happiness in your mouth like a Cohiba Behike.  I call that my celebration stick.  I save the Behike for my birthday, New Years and other big events."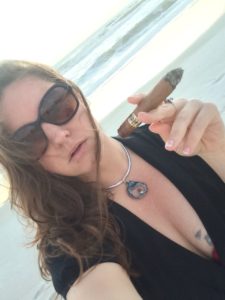 Drink pairings can sometimes be a difficult decision, but not for Eryn. Her poison is usually tequila.
"The footpath to my heart is paved with Cuban cigars and lined with bottles of top shelf tequila.  Clase Azul Plata over ice is positively divine," Eryn boasted. "I call my favorite concoction a Tequila Sundown.  It's Simply Orange OJ, two shots tequila and a shot of Grand Marnier.  I tell everyone the reason I'm so healthy is OJ is packed with Vitamin C and alcohol kills germs.  I'm not sure it's great advice … but it sure works for me!"
Eryn is a foxy gal who adds plenty of sex appeal to the cigar industry. Her beautiful face, sultry lips and sexy body scream seduction.  Add a cigar to the mix, and she is dynamite.
"Cigars certainly don't need my help to be sexy.  They're just naturally sensual and seductive … but I don't suppose I hurt the cause either," Eryn revealed.  "A beautiful woman with her lips wrapped around a beautifully constructed cigar is at the very least provocative … as it should be."
Habano BarCafe will always be Eryn's cigar bar of choice because it is her "favorite place on earth." However, she does frequent other nearby bars and lounges.
"Beach Cigar and Hookah Lounge in Fort Lauderdale is incredible," expressed Eryn. "I love those guys. The owner has been amazing to us."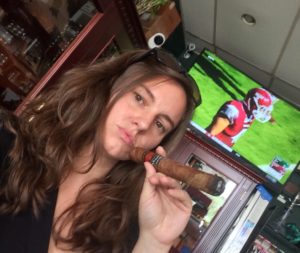 There is no doubt that Eryn should be this week's Sizzlin' Sunday Cigar Girl. She is a sexy gal with a playful personality and an undying passion for cigars, plus since she has taken up smoking cigars she has lost all urges to 'punch fat babies in the face."
"Cigars not only kept me away from cigarettes – they had the added benefit of not making me twitchy if I couldn't have one exactly on schedule," stated Eryn.  "I never got that feeling of wanting to punch a fat baby in the face like I would when I was overdue for a cigarette.  It is a cool, mellow way to unwind."