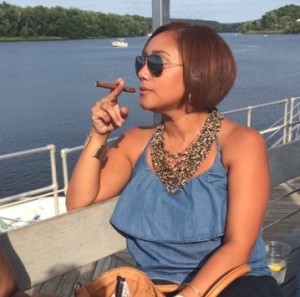 Meet Elizabeth Cedeno, a sizzlin' 40-year-old sister-of-the-leaf (#sotl) from New Britain, Connecticut. This devilish dame is of Puerto Rican and Honduran descent originally from Brooklyn, New York. She is a proud single mother of a19-year-old daughter and works tirelessly during the week as an assessment technician and office assistant. To unwind she kicks back on the weekends with a cigar and cocktail.
Elizabeth started smoking cigars about a year ago while on vacation in Florida.
"I was out with friends in Downtown Orlando when we passed by Corona Cigar and I was loving the smell of the cigars being smoked so I got intrigued," explained Elizabeth. "I went into the store and asked a few questions, bought a few cigars recommended to me by a Corona staff and after that I was hooked."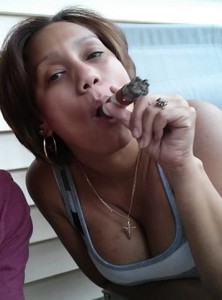 This smokin' beauty may be a bit of a novice, but when it comes to selecting cigars, she has the grace of a seasoned veteran.
"I like trying out different cigars so I don't have a favorite in particular but I do enjoy Ashton, MonteCristo and Las Calaveras," Elizabeth said.
It is all about the mood. The right mindset will unlock a trove of pleasure. For this sexy senorita it is a tequila or beer that tickles her fancy.
"I don't have anything specific that I pair a cigar with but I do love my tequila and beer," Elizabeth revealed. "I guess it all depends on what I'm in the mood for that on that particular day."
This humble hottie hasn't put much thought into the sex appeal that she exudes on the smoking masses. Well, her admirers sure have. Her "goof-ball" personality coupled wither her radiant physical allure is undeniable. Her adorable face and rockin' body speak volumes for her magnetism.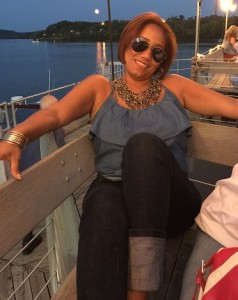 "Sex appeal?  I'm not sure because I never put much thought into it.  I just see myself like any other person enjoying a nice cigar," Elizabeth exposed.
If she is smoking at home she can be found nestled in an oversized armchair in the confines of Cigar & Tobacco cigar lounge in Berlin, CT.
"It is the only cigar lounge that I've been to so far.  A friend frequents it a lot so I went with him to check it out.  Awesome place with a friendly atmosphere," described Elizabeth.
There is no doubt that Elizabeth deserves to be this week's Sizzlin' Sunday Cigar Babe. She is beautiful, passionate and full of life.
"I see myself as a simple, fun-loving, humble person but I can also be a goof-ball because I love joking around."