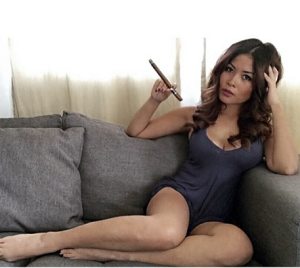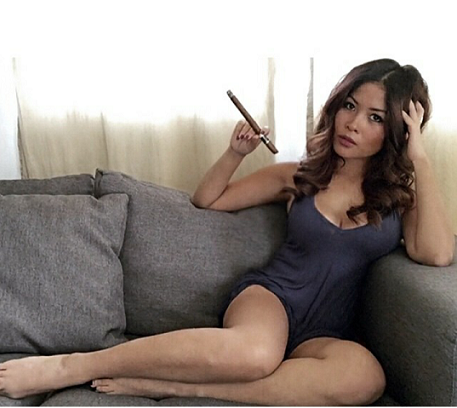 Meet Maria Elaine Dalistan, a 29-year-old 'thrilla from Manila,' Philippines but raised in Hawaii. She is the founder of Cigar Bar Hawaii, a mobile cigar bar that provides cigars for private events such as weddings, golf tournaments, corporate events and more. This dazzling dame also hosts her own cigar events every other month.
Maria smokes cigars three to four times a week. She especially loves to indulge in a smoke while golfing on the breathtaking island of Hawaii. She began smoking cigars about six years ago, but as she describes it, "It was not love at first try."
"My first encounter with a cigar was horrible," she explained. "I knew how to smoke it but guess the cigar I smoked was a bad one.  I felt nauseous and vomited."
After such a horrific experience, a friend of Maria's reintroduced to her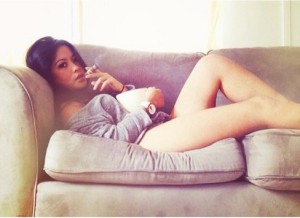 to the enchanted world of cigars about a year later.
"He gave me a Havana Honey to try. It is a premium hand rolled cigar with vanilla flavor," said Maria. "Then I gradually tried different non-flavored ones, Macanudo Hyde Park Café was once my go-to cigar."
Today she has evolved from mild, creamy smokes to medium and full-bodied sticks. This smokin' beauty loves to learn about the 'behind the scenes' experiences of a cigar – the history, culture and people.
Maria's favorite location to smoke cigars is her backyard. Not because she is antisocial, but because Hawaii has some of the strictest smoking laws in the United States. When she does venture out, she patronizes Tobaccos of Hawaii, a top-notch cigar shop with a quaint lounge at the back. She is also a member of the Cigar Club of Hawaii, a group that meets at The Row Bar every Thursday where she smokes, drinks, eats and socializes.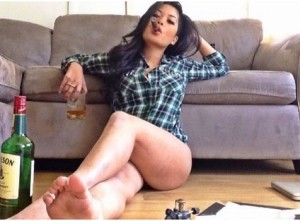 "This is one of the reasons why I throw cigar events, it's my way to introduce the cigar world to younger crowds and definitely to more women," Maria noted.
Because of the strict smoking laws in the Aloha State, Maria finds herself traveling a lot to genuinely appreciate a satisfying smoking experience. This gorgeous gal loves to travel.
"Ever since I've entered the cigar industry/world, I have met so many great people around the world that share the same passion that I do," she explained.
Her most memorable experience is lodged deep in her memory.
"I travel often and the most memorable experience that I have had was when I went on a Mediterranean cruise," boasted Maria. "The ship was docked off the coast of Greece in the middle of the ocean and I was enjoying a cigar. It was the La Gloria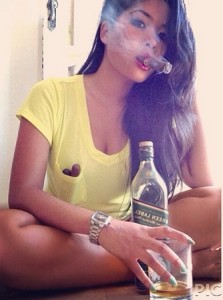 Serie R No. 3. We were overlooking the island of Santorini and watching the sunset. It was amazing."
It is hard to believe that this stunning woman does not believe she adds sex appeal to the industry. However, there are many guys who would disagree with this humble heart breaker.
"I seriously don't think that I add sex appeal to the industry but I do think women who smoke cigars (the ones who actually know how to smoke a cigar) are sexy and I know most men would agree."
Cigars, booze, golf, travel and beauty, Maria has it all. She is a gorgeous woman who absolutely deserves to be this week's Sizzln' Sunday Cigar Babe.
Follow Maria on Social Media: Instagram @elainerrr_cbh  or #cigarbarhawaii
Click here for a video of Elaine