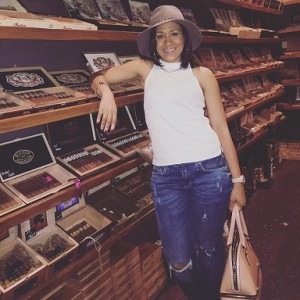 Meet Deandria Dorsey, a sizzlin' 45-year-old sister-of-the-leaf (#sotl) from Houston, Texas. Deandria has been smoking cigars for 15 years and absolutely loves the lifestyle. One cannot help but admire the adoration Deandria exhibits for the leaf as she locks her sultry lips around a firm robusto.
"I love a great cigar," she proclaimed.
Deandria, who works in the finance industry, smokes cigars at least once a week. Her favorite spots to smoke are at bars with outside decks, restaurants with picturesque patios or on her charming patio at home.
"Cigar smoking gives me a peace of mind," revealed Deandria. "A good cigar and a nice glass of Pinto Grigio and I'm good."
Like many cigar enthusiasts, this smokin' beauty does not have a favorite cigar. She likes to try different brands,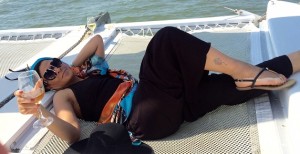 blends and vitolas to completely enjoy the cigar experience.
"I don't have a particular favorite cigar, but I like to taste hints of chocolate and mocha," Deandria explained. "I like mild-medium strength cigars that are medium bodied. I also like shorties."
It is quite obvious that Deandria is a classy dame who adds plenty of sex appeal to the cigar industry. Imagine this heartthrob swaggering into your favorite cigar lounge with her luscious legs exposed through the stitching of her short skirt. Look up for one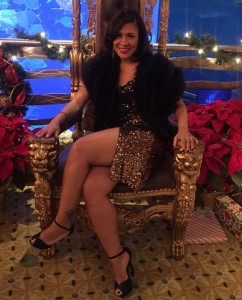 glance at her beautiful face and you will immediately be spellbound by her alluring smile and elegant poise.
You may soon have to opportunity to smoke with Deandria and many other fine looking ladies at her very own cigar lounge.
"I would like to open up a cigar lounge for the ladies called, 'She Smokes'," said Deandria. "It would cater to the female audience but, of course, the fellas are welcome. I think it is very sexy to see ladies smoke. I think the fellas feel the same way."
It is obvious that Deandria Dorsey deserves to be this week's Sizzlin' Sunday Cigar Girl. She is classy. She is elegant. She is sexy.