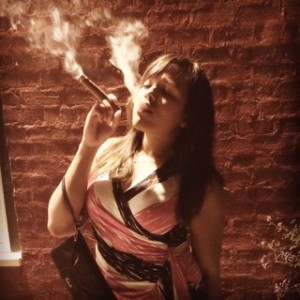 Meet Danielle, a sizzlin' 25-yeaer-old sister-of-the-leaf (#sotl) from Columbus, Ohio. Danielle was practically born into the cigar industry, for her parents own a cigar shop, Cigars in the Pass, in Pass Christian, Mississippi and a mobile humidor called Americana Cigar Box. Today this smokin' beauty typically smokes two cigars a day, five days a week.
Originally from Alexandria, Virginia, Danielle entered the enchanted world of cigars a few years back when her parents toted her to the International Premium Cigar and Pipe Retailers (IPCPR) trade show in Las Vegas.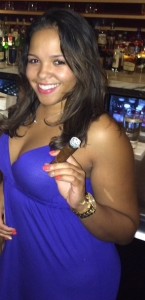 "My father has been smoking cigars for years and I've always been intrigued but never tried it," Danielle confessed. "Being in the midst of everything in the IPCPR opened my eyes to how large the cigar industry is. I had the opportunity of trying so many different unreleased cigars and I just fell in love."
Like most cigar enthusiasts, Danielle doesn't have a favorite cigar; however, she does have a few "go-to" sticks that she really likes. Her favorite ring gauge is a 54 or under because they "pack the most flavor."
"Some of the cigars I love are Padron 64, Oliva V Melanio, and Drew Estates' Dirty Rat," she revealed. "I prefer rich, creamy, bold cigars, primarily those with a maduro wrapper and ligero filler, but I enjoy others as well."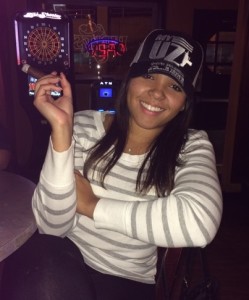 This sexy smoker loves to pair her cigars with a beverage to fully immerse herself in the cigar experience.
"Whenever I'm smoking a cigar, I usually drink coffee, wine, single malt Scotch. Bourbon, or coke," she explained. "Three things determine what I'm drinking with my cigar: the time, place, and weather. I enjoy a nice cup of coffee during my morning smoke, a coke if I'm simply taking a lunch smoke during a work day, and wine or scotch in the evening."
There is no doubt that Danielle is a hottie.  She adds plenty of sex appeal to the cigar industry with her adorable face, elegant smile and rockin' body.
"I do think I add sex appeal to the industry," boasted Danielle. ". I think men find it very attractive when a woman is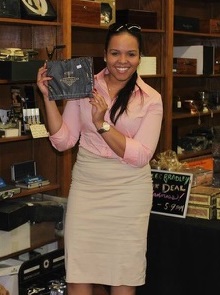 smoking a cigar and is also knowledgeable about the cigar culture and can hold an intelligent conversation. The cigar adds sex appeal; however, it's everything else about the woman that puts the icing on the cake."
Her cake has plenty of icing!
Danielle is also a bit of a wanderlust. She loves to travel and because of that, she patronizes many different cigar lounges on the East Coast.
"I visit various cigar lounges from Cigar Inn in NY, Aphelion in MD, Tobacco Leaf in NC, and many others," said Danielle. "While I worked in PA, I was a regular at the Tobacco Company in Lemoyne; however, when I'm home, I'm typically at the Montecristo Lounge in downtown Columbus or relaxing on my patio."
For those rare occasions when Danielle is grounded, she likes to work out and spend time with family and friends.
Danielle definitely deserves to be this week's Sizzlin' Sunday Cigar Girl. She is gorgeous, loves the cigar industry and appreciates the finer things in life.