Meet Cici Carrillo, a 34-year-old sizzlin' sister-of-the-leaf (#sotl) from Las Vegas, Nevada. Cici began smoking cigars when she was just 17 years old. Today, she smokes three to four times per week.
"The first time I smoked a cigar was with my father when we visited Hemingway's home in Key West Florida. I was 17 years old," said Cici.
Cici's enthusiasm for cigars has come a long way since her teen years. Fast forward 17 years beyond that fateful day when she roamed the hallowed grounds of Ernest Hemmingway to today when her husband and father are about to open their very own cigar lounge.
"My husband, who currently works in the cigar industry, and my father are working on opening a cigar lounge in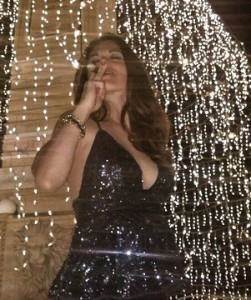 west Las Vegas aptly named Fat Ash Cigar Lounge," Cici revealed.
Cici's favorite cigar is the Liga Privada Unico Series Papas Fritas. It is a 4.5 x 44 stick that has become very popular among today's cigar enthusiasts. She, like most cigar smokers, loves to pair her cigars with booze. Her preferred poisons are red wine or whiskey.
"I love to find different red wines to pair with cigars and different types of whiskey," said Cici. "My favorite whiskey is Hibiki 12 year and my favorite wine is Paul Hobbs Crossbarn.  I also think chocolate is a lot of fun to pair with cigars as well."
Originally from San Diego, California, this smokin' beauty adds plenty of sex appeal to the cigar industry. Las Vegas certainly gained plenty of eye candy when Cici arrived. However, this humble heartthrob doesn't realize how much odylic force she exudes.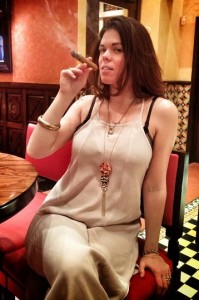 "I feel that all beautiful women who smoke cigars add sex appeal to the cigar industry. I think it adds fun flare to smoking," Cici noted.
Cici doesn't have one particular go-to lounge that she frequents since kissing San Diego goodbye. She has been patronizing different ones, trying to fill the void that was once filled by Cigar Grotto in Oceanside, California.
"Before I moved from San Diego I hung out at the Cigar Grotto in Oceanside, California. I love the owner, Gregg Engels. He is a wonderful guy and his wife DeeDee is so beautiful. They are very friendly and knowledgeable," expressed Cici.
Since moving to Las Vegas, she has discovered one particular haunt that she is starting to warm up to.
"Since I moved to Las Vegas I have tried La Casa at Tivoli Village, Casa Fuente, the new Davidoff Cigar Bar, and Tobacco Leaf. Casa Fuente is my favorite so far because it has a nice atmosphere and friendly staff," Cici said.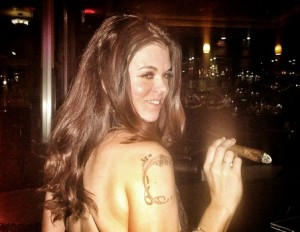 When not smoking cigars, enjoys going to the beach, running a lot and relaxing with good friends. She works as a behavior therapist for children.
You can follow Cici on Instagram @havana_honey and her husband @alpha_botl