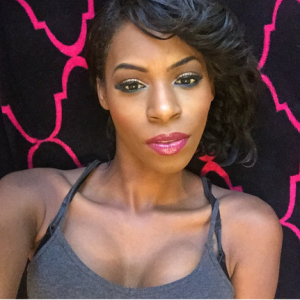 Meet Chanel Freeman, a Sizzlin' 27-year-old Sister-of-the-Leaf (#SOTL) from Orlando, Florida. Chanel was first introduced to cigars by the legendary Avo Uvezian when he gave her a cigar during a birthday dinner for the renowned master blender.
"I was first introduced to cigars by Avo. He gave me my first cigar," boasted Chanel. "It was actually at his birthday dinner that some friends put together for him."
Chanel refined her palate and grew deeper and deeper in love with cigars while working for Corona Cigar Company in Florida. Today Chanel smokes premium cigars a "few times a week."
"I would be given cigars to sample from various cigar companies. I grew quickly fond of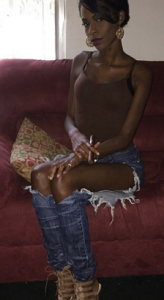 cigars and understood why so many people love them," explained Chanel.
Chanel's go-to stick is the Kentucky Fire Cured by Drew Estate, but she is also fond of Diamond Crown and La Flor Dominicana as well. Like most cigar smokers, Chanel enjoys smoking a cigar while sipping on a libation. Her drink of choice is red wine.
"I love red wine, particularly Merlot or a nice glass of Cabernet Sauvignon pairs excellently with a cigar to me," said Chanel.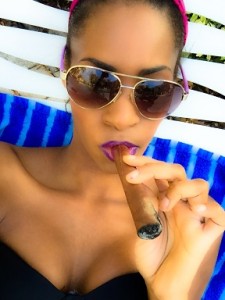 Even though Chanel no longer works for Corona Cigar Company, she still haunts the lounge.
"I hang out at Corona Cigar locations in Orlando. The reason being is that a part from previously working there, it is a great establishment," Chanel commented. "The owners and staff are amazing, the drinks are superb and of course, the cigar selection is mind blowing."
Chanel is certainly a welcomed treat at any cigar lounge she chooses to frequent. Her beautiful face, rockin' body and adoration for the leaf certainly adds plenty of sex appeal to the cigar industry.
"I definitely believe I add sex appeal to the cigar industry," Chanel noted. "I am a woman who loves cigars appreciates the art of cigars. To me a woman is art work and cigar are art work as well, so when combined, it is a beautiful thing."
For those in the Orlando, Florida area, Chanel is hosting a cigars & art show, Adore Pure Art Show, on August 16, 2015. For more information click here.
To learn more about Chanel, follow her on Instagram: @adorepureart