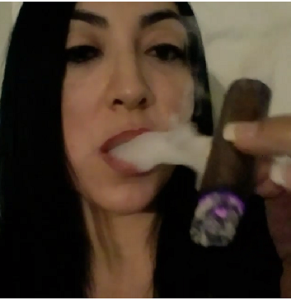 Meet April Garza, a lovely 40-year-old lady of the leaf who was born and raised in San Antonio, Texas. She is a whiskey shooting and cigar smokin' beauty who loves to lift weights and watch sports.
April is a fairly new cigar smoker, starting just about a year ago, but already finds herself fully immersed in the culture. She smokes at least one cigar every day, sometimes as many as three.
"I love lifting weights, watching basketball (San Antonio Spurs) and football (San Francisco 49ers) and I smoke every day, sometimes up to three cigars," April explained. "The cigar lounge and gym are my other homes."
Her husband, who has been smoking cigars for quite some time now, sparked her interest for the leaf. Today she satisfies her sinful desires by patronizing her favorite cigar lounge, Club Humidor, and firing up her favorite cigar, Liga Privada No. 9 by Drew Estate. In fact, April has joined Club Humidor as the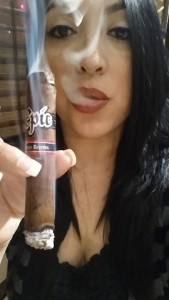 shop's newest employee.
"My husband is a cigar smoker so it was he who influenced me," said April. "The Liga 9 was my first cigar and I fell in love."
Among April's favorite cigars, other than the Liga Privada No. 9, are One 13 by Steven Dru and Joe Torres and the La Juga Nunchuck by MoyaRuiz Cigars.
"One 13 is a local cigar and Steven Dru is going to blow the cigar industry away," said April. "The Nunchuck is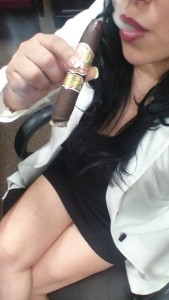 amazing. It has great construction, taste, draw and design."
Her passion for cigars can never overshadow the sex appeal that April brings to the industry. Her succulent lips, desirable magnetism and dynamite body create an aura that men cannot deny.
"I believe I do add sex appeal being that men love an attractive woman who smokes the best cigars along side them. Most of the time I'm the only woman smoking along side several men," boasted April.
Like most cigar smokers, April loves to pair her cigars with a premium beverage to elevate the smoking experience. She loves to drink whiskey or bourbon when kicking back to escape the harsh realities of life.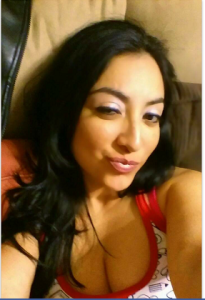 "Whiskey or bourbon is what i pair with a smoke, but I'm a simple girl who loves Maker's Mark or Maker's 46 –  my preferred whiskey," she said.
Cigars will always hold a special place in her heart and her rockin' body will continue to leave wanton men awestruck. Without a doubt, April Garza deserves to be this week's Sizzlin' Sunday Cigar Babe.