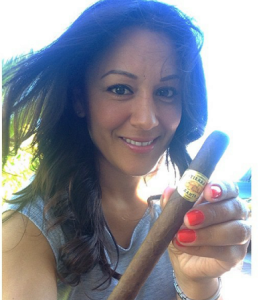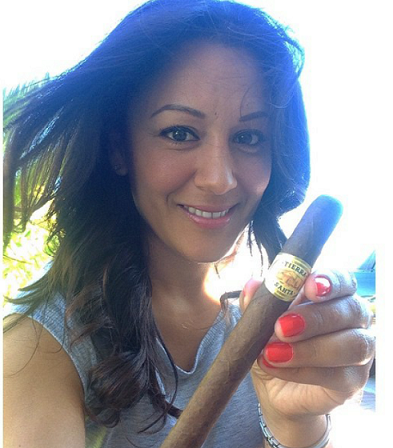 Meet Angelina a Sizzlin' 34-year-old sister-of-the-leaf (#SOTL) from Central Coast California. Angelina has been smoking cigars for the past three years and has worked her way up to four cigars a week.
"I just always had this fascination with cigars and finally decided to try one and bam, the rest is history," explained Angelina. "Now I smoke at least four times a week."
Angelina's home is surrounded by beautiful mountains, beaches and wineries, so this serene environment has become the perfect backdrop for relaxing and smoking.
"I don't hang out at cigar lounges," said Anglina. "I smoke in the comfort of my own home (outdoors of course) or somewhere scenic and serene."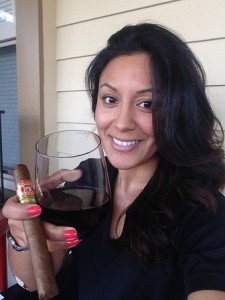 Angelina loves both red wine and stout beers. So, of course, she loves to pair her smokes with either one of her favorite libations
"I am a fan of red wines and stout beers so depending on what kind of mood I am in, I will pour a glass of either one and enjoy it along with my cigar," said Angelina.
As far as a favorite cigar, Angelina wants to smoke more cigars before she definitively answers that,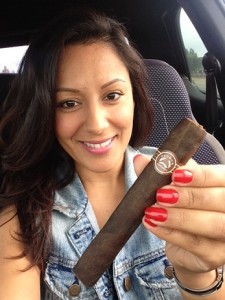 but she does have a go-to stick she has grown to appreciate.
"There are many wonderful cigars that I have not yet had the pleasure of smoking, however one of my favorites I would have to say is the Arturo Fuente Anejo," Angelina confessed.
When not smoking cigars, Angelina is hard at work for the nation's No. 1 solar company and running an online business. She also finds herself hanging out with friends where they shoot pool, BBQ, hike and partake in wine tastings. She is also an avid sports fan who closely follows baseball, football and boxing.
As far as adding sex appeal to the industry, Angelina definitely flaunts the 'look' that guys love, but when asked the question, this humble hottie is hard pressed to answer.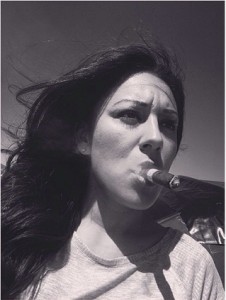 "Well, I mean, I guess. I'll let the audience answer that," responded Angelina.
It is clear that this sweet lady-of-the-leaf deserves to be this week's Sizzlin' Sunday Cigar Girl for her stunning looks, fun-loving hobbies and love affair with cigars.
"Happy Smoking everybody," exclaimed Angelina.
Follow Angelina on Instagram:  la_eagle_27