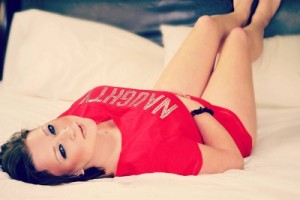 Meet Alisha Eustace, a Sizzlin' 35-year-old sister-of-the-leaf (#SOTL) who lives in Cincinnati, Ohio. Originally from Houston, Texas this mother of five is an aspiring cigar pin-up model who drinks craft beer and smokes premium cigars.
"At a very young age I can remember my grandfather always having some sort of cigar in his hand," Alisha recalled. "The smell of cigars always brings me back to him but it wasn't until I married my husband that I started smoking them."
Alisha, who has been smoking cigars for three years, relies on her husband's vast knowledge of the leaf for valuable information and his very large, extensive collection of cigars to pilfer a smoke or two.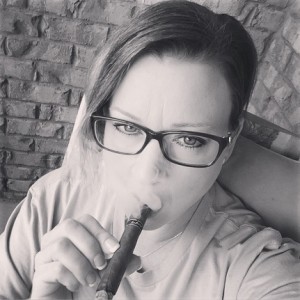 "My favorite go-to stick has been the Jucy Lucy Natural by Drew Estate," Alisha confessed. "It is short and sweet. I got super excited when I met Jonathan Drew."
Despite her adoration for the flavor infused sticks by Drew Estate, this dazzling dame's most memorable smoke is one that has made the Top 10 list of many cigar connoisseurs.
"My most memorable smoke has been the Padron Aniversario 1964 Principe Series that my husband had aged for eight years.  We brought in the new year smoking these on our back porch."
That may be her most memorable, but it is not her favorite.
"My absolute favorite cigar would be the Davidoff Royal Robusto," Alisha boasted. "It is smooth and creamy and has subtle hints of sweetness that I really enjoy."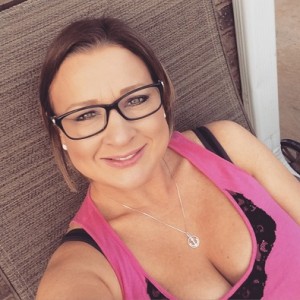 Like most cigar smokers, Alisha likes to pair her smokes with a fine beverage. However, she does not drink bourbons and whiskies and other hardcore booze that men think make them look macho. This smokin' beauty enjoys sipping on soft mocha flavored drinks that create a sensual, lustier image of a woman.
"My favorite drinks to pair with cigars would have some sort of mocha flavor.  I like the mocha and creme brûlée beer by Southern Tier Brewing Company," Alisha confessed.  "I also enjoy a cold Mocha Frappucino with my cigar.  I find the mocha drinks really draw out the flavors in a cigar."
Sex appeal? Yep, she has got it! But if you ask her, she may be hard pressed to admit it.
"Sometimes you lose yourself when you become a parent, especially to so many kinds, said Alisha. "I guess it is rather sexy to watch your favorite girl smoke a cigar, especially one of the larger ring gauged ones."
On her way from Houston to Cincinnati, Alisha and her family enjoyed a short layover in Madison, Alabama. During her brief stint living in the 'Heart of Dixie', Alisha would patronize The Cigar Room – a lounge she frequented a "few times a week."
"It was a very relaxing environment for both of us (husband)," said Alisha. "It was a great place for a busy mom to escape to and have a few kid-free quiet moments."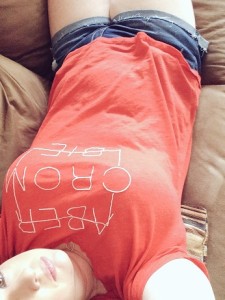 On a more personal note, Alisha had her first child when she was 19 years old and has spent the past 16 years being a mom and has not had the opportunity to enroll in college. But, Alisha plans to start college as soon as possible to study law.
"I want to become an advocate for battered women. I spent eight years in an abusive marriage so this 'cause' is my passion," stated Alisha.
A couple fun facts about Alisha:
This adorable southern belle loves to be supper silly and make her kids laugh. Plus, she named her dog after a cigar brand.
"I can be such a trip to be around sometimes," Alisha admitted. "My dog's name is Montechristo, named after the cigars and I love my bright pink Xikar cutter and lighter."
If you would like to learn more about this beautiful cigar smoking, beer drinking sweetheart then follow her on Twitter @a_eustace or on Instagram  a_eustace. She also posts using #cigarprincesse