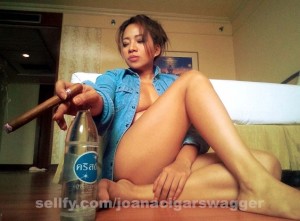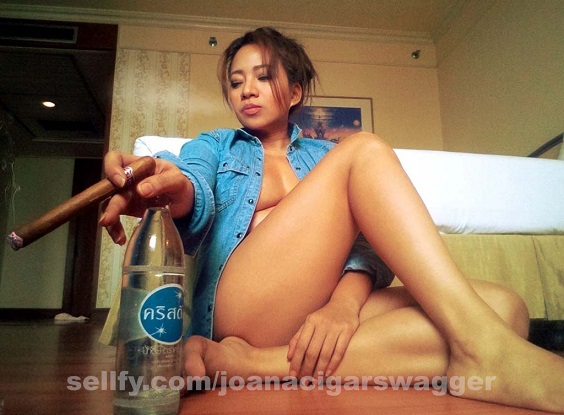 Meet Joana Love, an ultra-sexy sister-of-the-leaf (#SOTL) from Manila, Philippines. She is in her late 30s, has two kids, four cats and absolutely loves smoking cigars and riding Harley-Davidson motorcycles.
"It is such a pleasure for me. I love smoking cigars," Joana confessed to Ultimatecigarparty.com.  "I smoke cigars when I'm going on rides with other bikers on our Harleys on the weekends."
Joanna, who also loves traveling and wind surfing, is a merchandising manager for Harley-Davidson. But, she loves the cigar lifestyle so much that she wants to work in the cigar industry as well.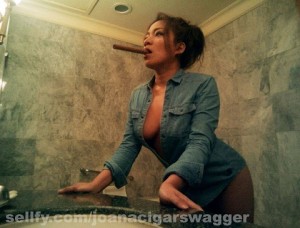 "I wish I could also work in the cigar industry but the opportunity hasn't materialized yet, but that'd be great if I could both ride and be part of this industry that I find fascinating!" Joanna stated.
This smokin' beauty smoked her first cigar in 2004 and hasn't looked back since. She loves how puffing on a stogie looks and feels, not to mention the tasty flavors and amorous smoke that roll off her sultry lips like an unforgettable kiss.
"Smoking cigars is something that I'm really enjoying, especially when on the beach or after a long bike ride, and I'm really proud to be a cigar smoker," revealed Joana. "I think it gives power to my femininity."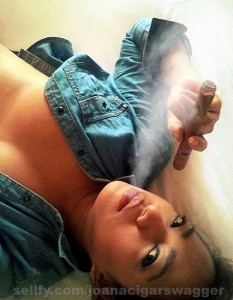 Like most cigar enthusiasts Joana doesn't have a favorite cigar and loves to try new blends and brands as often as possible especially medium to full-bodied cigars in the toro vitola. However, she does have a few favorite brands that she holds near and dear to her heart.
"I love smoking Cohiba, Oliva, Vegas Gold and Camacho but I hope that list will grow much longer over time," remarked Joana. "The six inch long, 50-52 ring gauge is a great size. It feels and looks great in my hand and mouth."
Joana doesn't like to smoke alone; in fact, Jack Daniels and Johnny Walker are frequent companions who bring this dazzling dame great pleasure.
"I think a good whisky is the best companion to a cigar, and puffing on a great cigar while sipping on a Black Label or a Jack Daniels is the best pairing," Joana expressed.
What also brings this sensual damsel great pleasure is inhaling.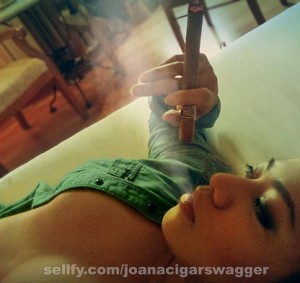 "Inhaling is pure pleasure. I can't picture myself lighting up a cigar without inhaling thick and rich cigar smoke deep into my lungs," she said.
It is no secret that Joana brings plenty of sex appeal to the cigar industry. Her killer body, beautiful face and erotic expressions speak volumes. There is no doubt that this lady-of-the-leaf brings plenty of stares and smiles to men's faces when she puffs on her sticks.
"Yes, I think I bring sex appeal to the industry," boasted Joana. "Well, I humbly hope so at least."
She went on to say, "I think that cigar smoking is very empowering for a woman and it adds sexiness to your style.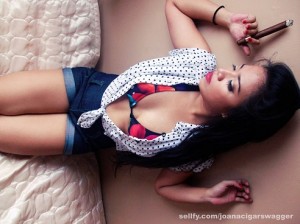 It's something very elegant, chic and ladylike when done right."
Joana definitely deserves to be this week's Sizzlin' Sunday Cigar Babe. She is gorgeous, exciting and dripping with desire, plus her ultimate goal is to make love while smoking a cigar. What can top that?
"Cigar smoking has always felt very sensual and is something very sexy for me. The one thing that I haven't done yet but dream to do is make love while smoking my cigar, sharing a very intimate experience and making it even more pleasurable and sensual with a cigar."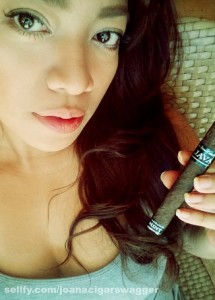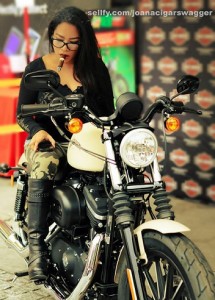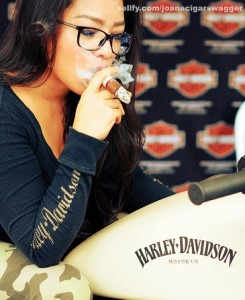 "Smoking cigars is something that I'm really enjoying, especially when on the beach or after a long bike ride, and I'm really proud to be a cigar smoker."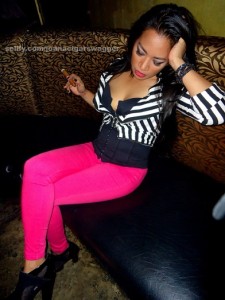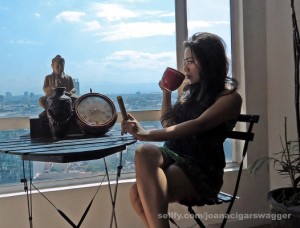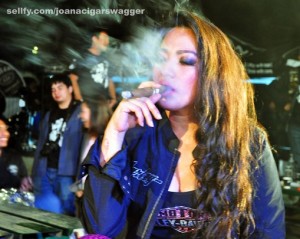 "Inhaling is pure pleasure. I can't picture myself lighting up a cigar without inhaling thick and rich cigar smoke deep into my lungs."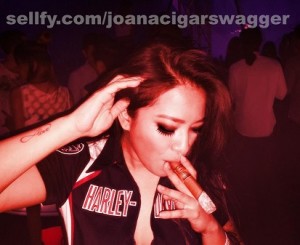 "The six inch long, 50-52 ring gauge is a great size. It feels and looks great in my hand and mouth."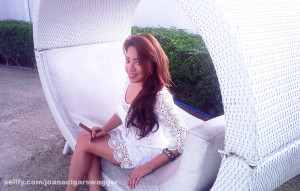 "I haven't done yet but dream to do is make love while smoking my cigar, sharing a very intimate experience and making it even more pleasurable and sensual with a cigar."