Meet Jennifer Monge, a sizzlin' 40-year-old separated mother of two from Newark, NJ. Jennifer is a stunning sister-of-the-leaf (#stol) who is more than just a beautiful face pinned to the wall of a testosterone filled cigar lounge. Instead, she is the beaming figure attracting attention from behind smoke clouds and conversation. Her audience ogles her confidence and class.
Jennifer, who works for Chanel as a licensed US customs broker, has been smoking cigars for the past five years. It was a fascination that introduced her to the enchanted world. Today, she smokes as her weekend treat to unwind after a grueling week at the office.
"I've been smoking for five years," Jennifer explained. "Being a scotch/whiskey drinker, the thought of pairing my drinks with a good smoke sparked my interest.  And, it helps that I have always been fascinated with the aroma of a lit cigar."
Like many of today's cigar smokers, Jennifer has a few 'go-to' sticks that she enjoys.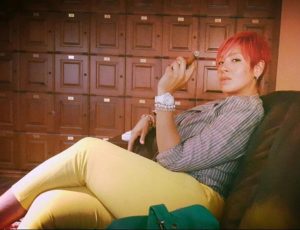 "I'm a fan of the Drew Estate/Rocky Patel collaboration, Java Cigars, in particular the Java Mint. It's like a York Peppermint Patty," Jennifer said.  "The rich taste pairs well with one of my favorite drinks, Glenmorangie Signet.  This spicy, chocolaty espresso scotch that finishes off with a minty orange taste is the perfect pairing to the Java Mint."
She also enjoys the Drew Estate Acid line.
"I haven't tried one that I don't like and I have tried most," she expressed.  "One in particular that I like is the Nasty. I enjoy the pyramid shape and its smooth, tasty smoke."
She went on to say, "I prefer to smoke my Acid cigars paired with my favorite 12-year scotch, The Glenlivet. The apple aromas paired with the earthy tastes of Acid Cigars is magical."
Jennifer has recently found herself attracted to the Fuente Chateau Queen B and King B. Her amorous feelings toward these two charmers stem from the alluring flavors and royal appearance. She also enjoys My Father cigars and Herrera Esteli.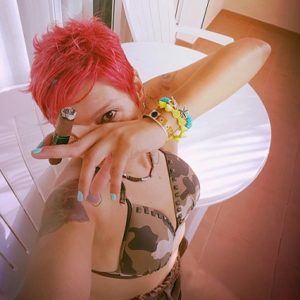 "Aside from the fabulous names, I enjoy the perfect balance of the tobacco and cedar tastes absorbed from the cedar sleeve," Jennifer noted. "And, in keeping with the royal theme I pair these with Crown Royal."
If it has not already become obvious, this dazzling dame loves whiskey. Jennifer is a picturesque whiskey girl living life on the rocks.
"I like my drinks like I like my men – Strong, Cool, and Straight," she revealed. "The ice cubes melt perfectly to open up the flavors of my drink, and that's all I need. Do not mix my drinks with anything."
Jennifer is a smokin' beauty who adds plenty of sex appeal to the cigar industry. Her radiant smile, alluring body and sultry lips are magnetizing. However, she is too humble to admit her intriguing zest.
"I think more importantly than adding sex appeal, it introduces us (women) to a scene that was once limited to older, distinguished, gentlemen escaping for a smoke and some peace," stated Jennifer. Well… guess what, some of us ladies enjoy the same.  Hope you don't mind us gracing your cigar lounges with our presence."
Mind? More like a welcomed treat!
Fortunately for the gentlemen of New Jersey, this lady-of-the-leaf (#lotl) loves frequenting NJ cigar lounges.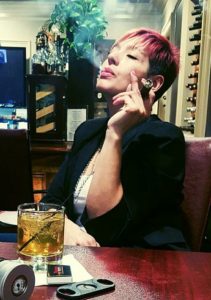 "I prefer a nice night out at a cigar lounge/restaurant versus a night out in a crowded bar or club with music so loud that you can't enjoy your company's presence," Jennifer exposed. "One of my favorites is Jamie's Cigar Restaurant in Clifton. The food is delicious, the crowd is diverse, the service is warm and friendly, and the drink selection is up to par."
She went on to say, "My newly discovered treasure is Railroad Cigars in Newark.  I'm in love with the setup – two levels, a pool table, a jukebox, and, I love the crowd."
This Jersey girl is more than just cigars and whiskey. Not that that is a problem, but her adoration for guns, tattoos, outdoor adventures and fashion makes her the quintessential woman that most men desire.
"I enjoy outdoor activities… whether it's outdoor dining (picnics, on the beach, curbside bistros, or rooftop gardens) to being one with nature, such as camping," said Jennifer. "I also love to play with guns and I'm a great shooter. My favorites are machine guns hands down."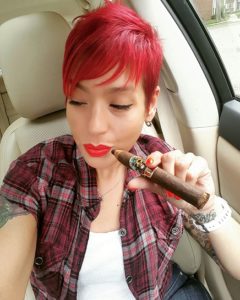 She continued, "I love tattoos, I'm a diehard NY Yankees fan and I have been labeled a fashionista…and I do love fashion. However, I am not a girly girl. I don't take hours getting ready or shopping.  Simple style is my key look."
There is more.
"I love to read…. but it must be a book… no e-books please!  I get a high off of holding a book and smelling the pages."
Without a doubt, Jennifer Monge deserves to be this week's Sizzlin' Sunday Cigar Girl. She is beautiful, classy and intriguing.
"I like my drinks like I like my men – Strong, Cool, and Straight,"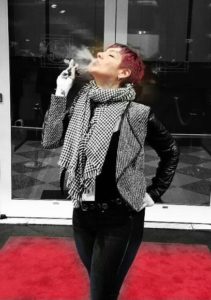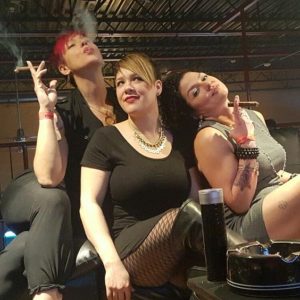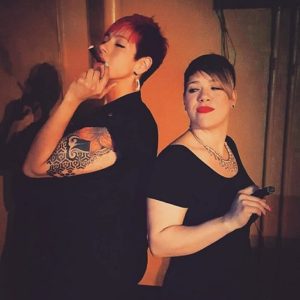 "I love tattoos, I'm a diehard NY Yankees fan and I have been labeled a fashionista…and I do love fashion."