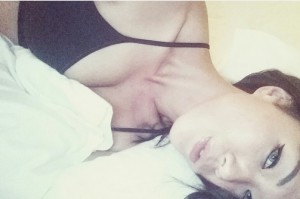 Meet Stephanie, a sizzlin' 34-year-old sister-of-the-leaf (#sotl) from Washington, D.C. metro area. Originally from Fayetteville, NC, this dazzling dame is diehard fisherwoman who spends most of her weekends on the Shenandoah River fishing for bass and smoking cigars. She usually smokes one to two cigars a day.
Stephanie is an operations manager for a laboratory company by day, but after dark she tends bar at The Cigar Room @ Tyson's in Tyson's Corner, VA. This well-cultured gal also plays the piano, loves reading, writing and cooking. So how did this lovely lady-of-the-leaf break into the cigar lifestyle?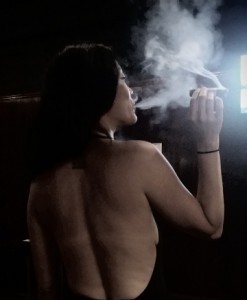 "I didn't really get into cigars until I started working at the lounge," explained Stephanie.  "One of my regulars would bring me new cigars each week to try and basically, taught me everything that I know."
Like many cigar enthusiasts, Stephanie doesn't have one particular cigar that she calls her favorite, however she certainly knows what she likes.
"There are some guys who smoke the same cigar every day and won't try anything new…how boring.  My customers are always bringing me new cigars to try.  I've smoked so many great cigars that it's hard for me to pick favorites," said Stephanie.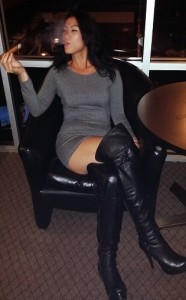 A few cigars that have made her Top 10 list are: OpusXDestino al Siglo, Padron 1964 Aniversario, Oliva Serie V Melanio, LaGloria Cubana Serie R Esteli, and Avo Domaine.
"I can say that I have yet to smoke a cigar that I've disliked…and I have yet to have a customer who didn't like a cigar that I recommended," boasted Stephanie.
Her exquisite taste for cigars is clear, but how about her thirst for booze?
"My favorite drink to pair with a cigar is coffee," Stephanie mentioned with hesitation. " Also, I like bourbon and Scotch.  My favorite bourbon is Blanton's and for Scotch, I like Macallan 18. Yamazaki (Japanese Whisky) is also excellent."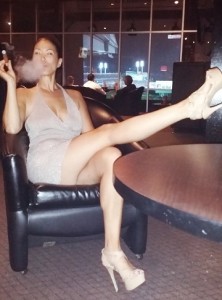 There is no denying that Stephanie is a smokin' beauty who brings plenty of sex appeal to the cigar industry. She is certainly a taste of eye candy that is hard to ignore. And when asked, she didn't deny it either.
"Oh hell yes!!  I think a woman smoking a cigar is a very powerful and sexual image," confessed Stephanie. "It is almost like a very attractive woman driving a fast car – it is sexy and empowering.  I have men that come into my bar who will just sit there and watch me smoke a cigar."
Simply put, Stephanie deserves to be this week's Sizzlin' Sunday Cigar Babe. She is gorgeous, sensual and well cultured. One can't forget her zest for the outdoors and love for cigars when thinking about what Stephanie has to offer the lifestyle.