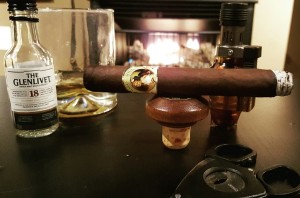 A full-strength cigar with an opening blast of pepper that morphs into an earthy smoke with notes of espresso and chocolate.
The NEW Havana Soul by AJ Fernandez is sold exclusively at Cigar King in Arizona. You can pick them up online by clicking here.
The brand has been around since 2003 when it was made by Don Pepin Garcia in Miami, FL. In 2007 Rocky Patel began making them; however, Rocky had to stop production because he only had enough tobacco to make 200 boxes. This current Havana Soul is being made by Rocky's former blender and current independent cigar maker, AJ Fernandez. It is still produced in the same limited run of 200 boxes of 20 cigars using the same, well-aged tobaccos as before.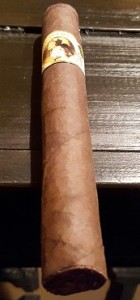 I was given a few of these cigars by Melanie Cantelmo from Arizona. She and her husband are cigar brokers representing many top brands. You can check them out online Fear the Beard Cigars (@ftb_melanie or @ftb_anthony).
Havana Soul's physical beauty immediately caught my eye. She was the perfect size, standing at 6 x 52 with a firm, well-packed body. Her nude flesh was toothy, slightly oily and very, very dark brown in complexion. She bore nice seams and very few, if any, tiny veins. Her chest was covered by a very vintage looking band that sported a picture of a classy, elegant woman of yesteryear.
Havana Soul hails from the Tabacalera Fernandez Factory in Esteli, Nicaragua. She came to me wearing an Ecuadorian Habano wrapper leaf with a Nicaraguan binder and Nicaraguan long fillers. I am telling you, this Latina is sexy. Her double cap and intoxicating perfume of coffee certainly added to her allure.
Enough ogling, I was starting to look like a stalker. It was time for me to make my move. I whipped out my cutter, snipped her cap and massaged her foot with some soft butane. I was ready to party with my lady of the night, Havana Soul.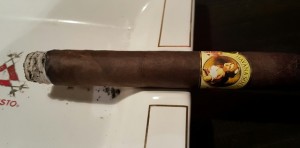 She and I spent the evening in my man cave where I explored her body and savored her flavors. If we weren't smooching, then she was locked between my fingers or resting nearby on an ashtray, but either way, she was never out of reach.
The opening moments of our rapturous evening were zestful and a bit frisky. Why? Because she dove right into things, no soft embrace or bashful introductions needed. She immediately coated my tongue with a blanket of peppery spice that became more and more pungent as our kiss continued. In fact her opening blast of pepper lasted for a good half inch or so. Wow did she come on strong. To be honest, I kind of like when my Latina companions are feisty. It certainly adds a bit of eroticism to the experience. As our affection progressed into the first third, the pepper started to fade and earth notes began to appear on my palate.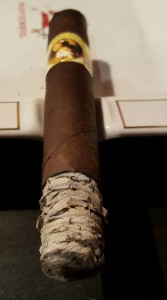 As the second third of our tryst approached I began to pick up espresso and chocolate notes. Truth be told, her spicy 'tude had really calmed down and morphed into more of a sweet smoke. Hmmm, I guess she is softening up a bit for me. She has replaced her dominant introduction with a more passionate, coy persona. I also really like the old, vintage tobacco flavor that I was getting from her. The spice has fallen off quite a bit here as I am smack dab in the middle of my nocturnal affair with my flavorful mistress.
The final third of my amorous entanglement was a satisfying experience. I tell ya what, Havana Soul definitely knows how to satisfy her man. The twilight of our evening together was quite memorable. She continued to pour on the flavor and I continued to savor every drop. Her spicy 'tude reappeared, her strength was kicked up a notch and her body became rich and bold. The spice wasn't as potent or dominant as it was earlier; however, it was increasing. The flavor profile evolved into a very nice balance of spice, espresso, earth, and natural tobacco with a chocolaty finish. The finish was a fairly long lasting tingle that kept my interest in between smooches.
I must say I found Havana Soul to be most decadent during the second and early stages of the final third. Her flavors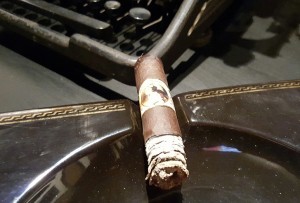 commingled nicely. Even though she is a full-bodied, full-strength cigar, I did not find anything overpowering, with exception to the opening blast of pepper, but that only lasted for a short time. She produced a lot of smoke that was thick, chewy and aromatic. Her burn line was dead even for most of the experience and her charcoal-gray ash was dense and held on for more than an inch before depositing itself on my shoe. Plus, her draw was perfect.
I definitely enjoyed my time with Havana Soul as she provided a very satisfying hour and twenty minute rendezvous. Her body was rockin' and her construction was top-notch. I recommend this complex cigar to seasoned veterans and/or those who enjoy a cigar that opens with a lot of pepper but mellows out in the middle.
Buy Here – Available exclusively at Cigar King
Specifications:
Made by AJ Fernandez at Tabacalera Fernandez Factory in Esteli, Nicaragua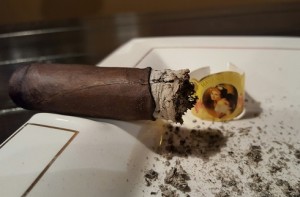 Wrapper: Ecuador Habano
Binder: Nicaragua
Filler: Nicaragua
Price: $10.00