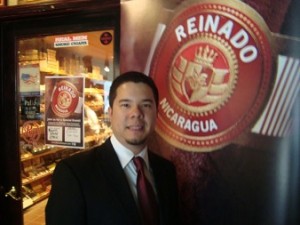 Today's smokers may have noticed a steady decline of boutique cigar brands on the shelves of their favorite cigar shops. That valuable shelf space that was once reserved for boutique brands is evaporating in many shops, being replaced with more widely-known mainstream brands. Despite the digression, one brand continues to flourish – Reinado Cigars.
"The boutique market right now is in a little bit of a decline," said Antonio Lam, owner and blender of Reinado Cigars. "It is shrinking from what I have seen compared to previous years. I think it is definitely getting tighter."
In spite of this, Reinado Cigars has been experiencing an uptick in sales in recent months. The brand is consistently increasing their shelf space and expanding their lines in more and more shops across the country. At the time of print, Reinado Cigars was in 75 stores, including 10 new additions. And, Reinado has agreements in place with several new shops that will begin to receive inventory during the first quarter of 2015.  Lam credits his growth with building close relationships with stores and trustworthy, loyal smokers.
"I think we are doing really well because a lot of people find our cigars very smooth, complex, very well balanced and our price point is not high for a boutique blend of this quality and caliber," Lam explained. "I think we built a little bit of a following so we have some loyalty, which is key to having staying power."
'Staying power' is what it is all about. Store owners are starting to become more and more selective with the brands they choose to carry. They look at what sells and which brands are worth investing in.  The health and vitality of today's boutique brands boils down to who has the staying power to hang tough right now and years to come.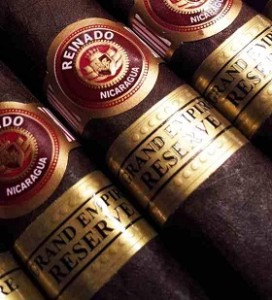 "Reinado's staying power is the quality that we have been putting out in a consistent manner," said Lam. "I have never had anyone come up to me and say that they had a bad Reinado cigar or had an inconsistent box. I think that is really one component that makes us successful and gives a little bit of an edge over some other boutique brands out there."
Above all, cigar aficionados and store owners appreciate consistency; it is a vital determinant in regards to staying power. No one likes inconsistency, especially with cigars. Consistent quality is what smokers yearn for and that is what Reinado Cigars has been delivering.
Lam's mind is relentless. He is always thinking about how he can improve his brand and blends and how he can satisfy consumers. As he plows ahead with his mission, he promises to maintain the same quality and consistency that smokers have come to appreciate. He plans to continue developing relationships in key cities where he can reach more cigar smokers and promote the top-notch quality of Reinado. Lam is finalizing the details of a "very special" project with some existing clients that he feels very strong about.
"They (projects) look to be very promising," noted Lam. "Already the buzz we are getting from them are very positive. We look to launch that at the end of the summer."
Antonio Lam launched Reinado Cigars at the 2010 International Premium Cigar and Pipe Retailers Trade Show in New Orleans.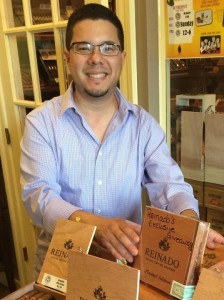 Reinado is a Spanish word that means the time of rule or reign for a king or queen. The name is classic and timeless.
"I wanted to make the branding classic and something that will last for a long time so what better way to incorporate it than with some royalty – The time or rule of or blends, our time here and the experience," explained Lam.
Lam primarily uses Nicaraguan tobacco in his blends. In fact, his factory and farm, Agros Tabacos Industriales, which has received high ratings in Cigar Aficionado magazine, is located in Condega, Nicaragua.
"We have a great relationship and partnership with Agros Tabacos Industriales and we look to keep working with them," said Lam. "They have their own farm and that is why our tobacco is aged very well and fermented very well. They are putting out some great things."
Reinado Cigars uses a signature fermentation process that Lam has been applying to his blends since day one. Most of the details are top secret and confidential, but he credits the process for delivering rich, smooth cigars.
"That is really the essence of what I wanted to do when I started blending, explained Lam. "I wanted to create a rich blend, rich, not necessarily strong, a richness that also incorporates a smooth experience so it is not harsh."
After experimenting for over a year, Lam found a way to deliver rich, smooth tobacco in his blends through a unique fermentation process that is all natural. Nothing is added to the fermentation process. Instead, Lam created a methodology that he feels is working and he continues to use the practice today.
The best-selling blend is the Grand Empire Reserve, which launched in 2012. It takes the Reinado core blend a step further, incorporating aged Nicaraguan Ligero and a Habano Maduro wrapper to create a complex smoke. The Grand Empire Reserve Petit Lancero recieved a 95 rating by Seths Humidor.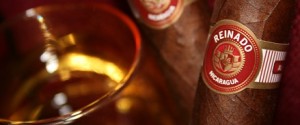 As the boutique market starts to wither and some brands find themselves belly up, Reinado Cigars continues to prosper.  The fermentation process is methodical, the craftsmanship is top-notch and the smoking experience is rich, smooth and complex.
"We are a very small, intricately made blend with a small production," commented Lam. "People should really pick up this brand if they are looking for something that won't break their budget that is still very special."
Those interested in trying Reinado Cigars but don't have a local retailer that carries them can buy Reinado Cigars directly from the company's website by Clicking Here
You can Follow Reinado Cigars on Social Media – Twitter: @Reinadocigars  and Instagram: Reinado_Cigars
Contest Rules: Win a Signed Box of Reinado Cigars Ecuador Edition Petit Lancero
(Included in Stogieguys Top Cigars of 2014)
Read the story above in its entirety and leave a comment in the comments section below with the answer to this question:
In which year was Reinado Cigars launched?
The contest runs through Friday 2/6/15 and the winner will be picked at random. Winner will be notified through email and announced on social media on Saturday. Valid to residents of continental US only.