An extremely rare humidor hand crafted by Daniel Marshall is among the exquisitely unique items up for auction to benefit the planet.
Los Angeles, Calif. (July 20, 2016) – An extremely rare and never sold limited edition humidor hand crafted by Cigar Aficionado's No. 1 rated humidor designer in the world, Daniel Marshall, is among the special auction items that will be part of the live auction at the Leonardo DiCaprio Foundation Annual Gala in Saint-Tropez, France. This one-of-a-kind humidor is personally signed by Governor Arnold Schwarzenegger, and includes a gold covered solid brass Governor of California Seal. A truly unique collector's piece, the humidor is packed full of Governor Schwarzenegger Signature Daniel Marshall Red Label Churchill Cigars. Schwarzenegger presented these cigars to visiting dignitaries to his office in the California Capitol during his terms as Governor. Also included are two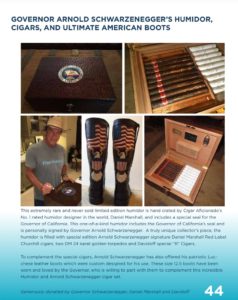 Daniel Marshall 24 karat Red Label Golden Torpedo Cigars. Davidoff Special "R" Cigars complete this auction lot.
The Leonardo DiCaprio Foundation will have their third annual gala at the Domaine Bertaud Belieu vineyard in St. Tropez, France, and will once again feature a fabulous list of auction items including the Daniel Marshall Humidor and Cigars alongside historic celebrity memorabilia, extensive contemporary art, and exotic travel experiences. Last year's event raised over $40 Million USD.
During Governor Schwarzenegger's two terms as the 38th Governor of California, Daniel Marshall created a very small number of these unique humidors. This piece is unique in its size and design. The Governor used them as special gifts and auction pieces to raise money for charities including After School All Stars (www.afterschoolallstars.org) and the R20 environment foundation (www.regions20.org.)
This rare humidor, crafted in California, required four months to create, and was hand carved from solid American Alder harvested from a renewable forest. The design idea was Governor Schwarzenegger's, as he wanted his humidor to evoke the look and feel of old wood beams and flooring reminiscent of his home in the mountains.
The gold and enameled Governor seal inlay on top of this masterpiece is unique. Unlike the consistency of the US Presidential Seal, the Governor's seal changes with each Governor in office making the 38th Governor of California seal unique to Schwarzenegger.
Over the 20 years that Daniel Marshall has known Governor Schwarzenegger, Marshall has been inspired by the Governor and motivated to give back and create unique pieces for charity.
"We are proud to partner with The DiCaprio Foundation. To create this rare collector's piece that is hand crafted using wood from forests that provide renewable lumber is a great honor and privilege," said Marshall. "Congratulations to Leonardo DiCaprio and his incredible partners and team for their vision and absolute commitment. A vital cause is to protect our planet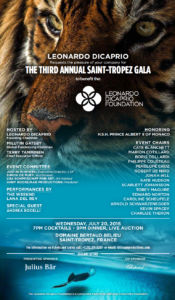 and implement renewable resources and energy to ensure health, safety and prosperity for our children and all future generations. One world, one people, one life."
About Daniel Marshall
Daniel Marshall, a 33-year veteran of the cigar industry is one of the world's leading names in No. 1 rated top quality humidors and finest cigars, including the coveted 24kt Red Label Golden Cigar. DM Humidors are enjoyed in the homes and offices of countless Hollywood celebrities, US presidents, dignitaries, titans of industry, and fashion designers among others. Marshall is also a cigar and humidor supplier of England's Royal Family. Since 1982, Daniel Marshall has created and designed for the prestigious luxury gift houses Dunhill, Tiffany & Co., S.T. Dupont, Cartier, Hermes, Fred Joaillier, Harrod's, Bally of Switzerland and Garrard's of London. Daniel Marshall's humidors are historic, with a collection on display at the Smithsonian Museum. Visit Daniel Marshall's site at www.danielmarshall.com. You can also find Daniel Marshall on Facebook at www.facebook.com/danielmarshallhumidorsandcigars or follow Daniel Marshall on Twitter @DMCigarWorld or Instagram @DMCigars for real-time updates.