Consuelo Gomez is quite possibly the only woman ever to own and operate a vertically integrated cigar company from the ground up. She began growing her own tobacco and opened her own factory shortly after she founded Amos de Santiago.
"My father, Juan Gomez, had grown tobacco since I was a little girl. He had a dream to open a factory, but never accomplished it," Gomez reveals. "In 2009, I founded Tabacalera Lizash in Tamboril, Dominican Republic, to fulfill that dream for him."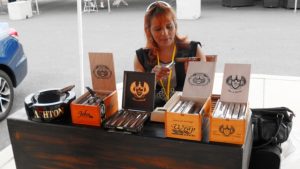 Born in the small town of Moca, about 25 miles east of Santiago de los Caballeros, Dominican Republic, Consuelo is of modest beginnings. In 1995, she started working for the prestigious Arturo Fuente factory. Knowing nothing about making cigars, other than the tobacco experience she shared with her father, Gomez enrolled in the Fuente school for tabaqueros. She was a natural. After spending nine years with Fuente, Consuelo embarked on her journey to the United States and introduced her own line of cigars. After chasing her dreams by sleeping on air mattresses and cleaning bathrooms to make ends meet, Consuelo now works with two partners and a few salespeople to grow her business to the next level – production is accelerating, sales are increasing, and shelf space in humidors is expanding.
Amos de Santiago cigars have been well received because of the company's 'Focus on Flavor' philosophy.
"Rather than overwhelming the smoker with powerful cigars that lose definition on the palate, we ensure a rich flavorful experience that is meant to be savored," explains Gomez. "We believe our Focus on Flavor philosophy sets us apart from every other manufacturer."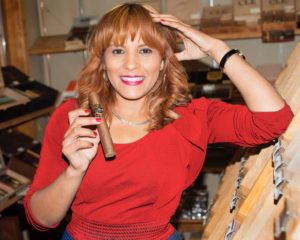 Amos de Santiago's best-selling blend is its unique Triple Wrap. Containing three wrappers (Candela, Connecticut and Corojo), it is also the most limited production cigar the company makes. There are only two rollers in the factory who can produce it.
Consuelo Gomez built Amos de Santiago from the ground up and today she is working to expand her brand until it becomes a household name recognizable in every reputable cigar shop around the world. "We're in it more for pleasing our cigar smoking