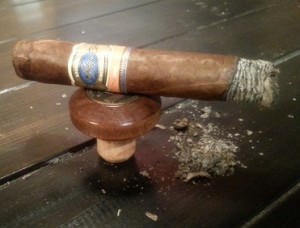 A full-flavored, medium-strength cigar with a complex profile that will appeal to smokers who enjoy more flavor than strength
The La Hoja Reserva Limitada 1962 is the company's third release since its rebranding late last year. This one is touted as being a 'regular release but limited in yearly production."
I was introduced to the La Hoja Reserva Limitada 1962 when her father, Willie Flores, introduced us at his cigar shop, The Cigar Room in Fort Lee, NJ a few months back. After months of rest in my Daniel Marshall Humidor, I finally decided to take her out for coffee on this beautiful evening here in NJ.
When I picked her up from the humidor I was bemused by her beauty and quickly reminded of just how sexy this Limited Edition gal is. She was dressed in a stunning Ecuadorian Sumatra wrapper leaf that was extremely dark and rich in color. She had toothy, textured flesh and an erotic sheen of natural oil that glistened like a jewel in an Ethiop's ear. She had prominent veins that ran through her firm, 6 ½ x 54 body that I found extremely arousing.  Her fashionable gold, blue and orange band accessorized her nude leaf beautifully with her name proudly tattooed across the front and a matching blue foot band topped off this fashionista's appearance perfectly.
Her well-constructed body conceals a Dominican binder that envelopes Dominican Piloto Cubano and Nicaraguan long fillers. The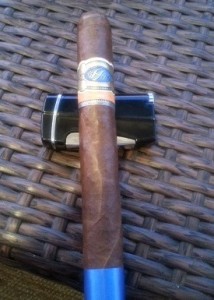 Piloto Cubano adds a bit of mystique and eroticism to her already lusty appeal, for many cigar makers stay away from this tobacco because it is pricy and hard to find. Her wrapper emitted an intoxicating perfume of sweet cedar, earth and nutmeg that lured me in like the bedroom eyes of a jezebel. According to the company, all of the tobacco used in this cigar is aged six years.
Without hesitation I firmly clipped her tip and gently massaged her foot with warm butane to prime her for action. Our pre-light foreplay got her in the mood for some one-on-one smoke time in my backyard cigar cave and I was ready to take the next step.
From our initial meeting, I knew this Latina was going to be a real sweetheart and our opening kiss affirmed it. Her kiss was amazing. The primary flavors behind her passion were cedar and dark coffee mixed with a nice nuttiness, but it was her soft, sweet breath that made our opening experience so memorable. The blend was absolutely amazing. She offered rich flavors that were upfront
and pungent. I would say her strength level at this point was a solid medium but boy was she full of flavor.
As if she wasn't tasty enough, her passion and flavors really started to ramp up as we continued on into the second third of our tryst. As I continued to explore her deep, rich flavors, this exotic beauty started to pour on the charm and bedazzle the pants off of me. She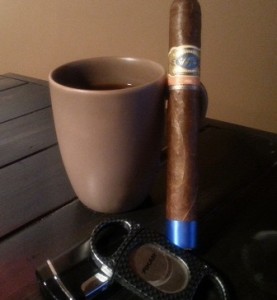 continued to offer a dominant flavor profile of rich coffee and nuts that coupled perfectly with the sweet cedar that gave her kisses that 'WOW' factor early on. Hints of dark chocolate started to creep in with a creamy smoke that was delectable to say the least. What was extra special about this tender heartthrob was her long lasting, sweet finish that blanketed my lips so I wouldn't forget what she tasted like as we rested between smooches. As if she wasn't sweet enough, her sweet persona intensified here in the middle of our nocturnal romance. I started to notice her strength slowly creeping up to a medium-full by the end of the second third.
Every time I inhaled her innocence she let out a scream of smoke that echoed throughout my cigar cave like you wouldn't believe. She emitted massive plumes of thick, white amorous clouds that danced about the room like a shameless schoolgirl. Her maintenance-free burn left a straight char line that produced a large, firm ash that was dense and dark charcoal in color. Her draw was perfect – flawless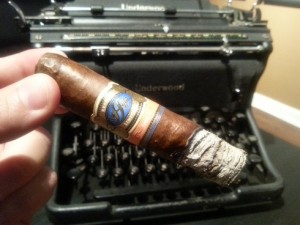 construction by Willie and his crew.
As you probably imagined by now, I did not want this rendezvous to end – EVER. Her flavors were extraordinary and extremely satisfying. Our final third together will never be forgotten. Each 'goodnight' kiss lingered and neither of us wanted to depart from the company of one another. Her flavor profile continued to impress. Her sweetness remained dominant and the nuttiness, sweet cedar and coffee continued to satisfy me. However, I could not taste anymore of the dark chocolate that I picked up earlier. There were absolutely no harsh or bitter bites coming from her final moments of burn. I continued giving her little pecks until I could no longer grip what was left of her once flawless body. Her strength remained at the upper end of medium, maybe touching upon full.
This exotic creation from La Hoja Cigar Co. 1962 is incredible and not a moment goes by that I don't think about the time we shared together in my cigar cave. She is an extremely smooth smoke with a memorable, complex flavor profile that is blended to perfection. I cannot say enough about how good the Reserva Limitada tastes. She is certainly the 'crown jewel' of the family.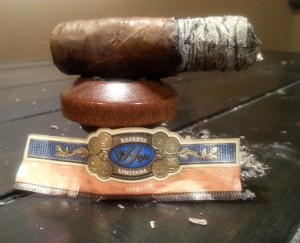 She remained flavorful from the opening kiss to the final goodnight smooch. I thoroughly enjoyed the commingling of Dominican and Nicaraguan fillers with the Ecuadorian Sumatra wrapper. I highly recommend this cigar to anyone who enjoys a tasty, flavorful smoke that isn't spicy or overrun with strength.
Specs:
Made by La Hoja Cigar Co. 1962 at the Tamboril DBL S.A. factory on Dominican Rep.
Wrapper: Ecuadorian Sumatra
Binder: Dominican
Filler: Dominican Piloto Cubano and Nicaraguan
Strength: Medium – Full
Price: $14.50