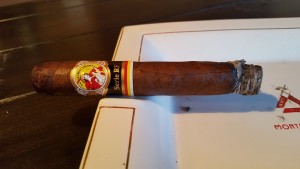 A bold, spicy powerhouse that uses "La Gloria Cubana's finest tobaccos"
The La Gloria Cubana RF is a cigar blended exclusively for Famous Smoke Shop and is available for purchase on their website.
My friend Cory Grover at Famous Smoke Shop hooked me up with La Gloria Cubana RF. It turns out that he is a damn good matchmaker. He knew that I would find La Gloria 'intriguing' and 'fun'. It turns out that he was correct. La Gloria and I had a great time together playing in the snow after the blizzard dropped 28.1" of the powdery goodness on New Jersey this past weekend.
After digging my way out of Snowmagedon, I decided to give the old gal a whirl after she spent a couple of months resting in my Daniel Marshall humidor. I gently ferried La Gloria Cubana RF to my man cave where we enjoyed a clandestine rendezvous in front of the fire. The backdrop couldn't have been more beautiful – crackling fire, snow-covered landscape, fine cigar and bottle of Scotch – it was something out of a Charles Dickens novel.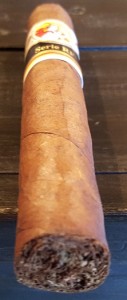 La Gloria was dressed to impress. She wore a sexy Ecuadorian Habano wrapper leaf that was toothy, slightly oily and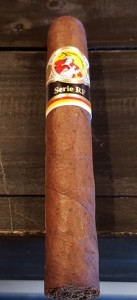 rustic in appearance. Her flesh was dark brown and bore tight seams and very few tiny veins. Her 6×50 body was firm, well-packed and damn near irresistible. Her chest was covered by the traditional La Gloria Cubana band with the letters "RF" tattooed underneath. The "F" is unique to Famous Smoke Shop with 12th Century Italian roots. See the video below for a more detailed explanation.
Her F.I.N.E. body was comprised of Dominican and Nicaraguan long fillers with plenty of ligero in the blend. Her binder was of United States Connecticut Havano tobacco.  She accented her beauty with an alluring perfume of earth and spice that was totally intoxicating. She continued to pull me closer like the bedroom eyes of a Jezebel.
Enough of this child's play, it was time to clip her cap and toast her foot because I was ready to taste her flavors savor this guiltless affair.
Her opening kiss was powerful, bold, rich and spicy. Right from the get-go I sensed a spice bomb with her frontloaded ligero long fillers filling my mouth with plenty of spicy pepper and thick, chewy smoke. This little lady was synonymous with the stereotypical Latina – loud, bold and feisty. I love it. A little frisky 'tude adds a bit of eroticism to relationship for sure. As the first third progressed I noted espresso and earth commingling with the spicy dominance of the ligero.
The second third of our tryst began in similar fashion – spice, earth and espresso; however, the spice seemed to subside a bit, becoming less intense. In fact, I tasted a bit of sweetness creeping into the profile, something I would have never expected after being bombarded by bold peppery spice. The smoke remained thick and the finish was fairly long and tingly. I appreciated the tasty finish for it left behind pleasant memories of the wildly intense moments that our lips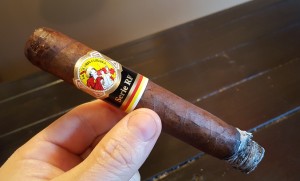 were locked.
The burn was spot on maintaining a nice, even char line. The draw, well what more can I say other than PERFECT. She released her innocence with precision satisfying my cravings nicely. Her ash was robust, tight and charcoal in color, remaining in tact for almost two inches before succumbing to nature's calling. As the final third approached La Gloria was definitely a full-bodied, full-strength dame with a tasty profile.
The twilight of my experience with La Gloria Cubana RF packed quite a punch. Her strength increased and her flavor profile heightened the mood as I cherished the final moments with my emerita. She remained spicy with earth and espresso notes intermixed. Her sweetness morphed into chocolate and a fresh note of cedar began to appear here at the end.
La Gloria Cubana RF was a complex companion that remained rich, bold and satisfying from beginning to end. She kept good company and satisfied my wildest demands. I enjoyed her spicy flavor profile and appreciated the additional nuances of earth, espresso, chocolate and cedar. Her burn remained on fleek and her construction was solid. Plus, she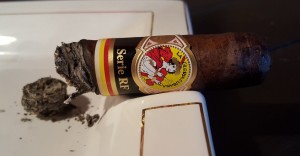 emitted plenty of smoke. I highly recommend La Gloria Cubana RF to seasoned veterans who enjoy strong, bold cigars. A novice smoker may find this cigar to be overpowering even after a large meal. This is the ideal "after dinner" cigar that pairs very well with Scotch. I paired it with Macallan 12 year old after a hearty meal.
You can buy this cigar at Famous Smoke Shop by clicking here
Stats:
Wrapper: Ecuadorian Habano
Binder: Connecticut Havano
Filler: Dominican and Nicaraguan
Price: $7.25