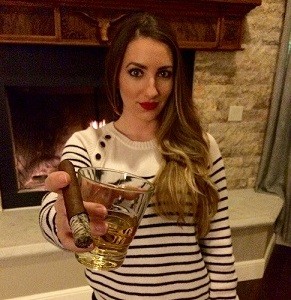 Meet Julie Martin, a Sizzlin' 27-year-old sister-of-the-leaf (#SOTL) from Austin, Texas.  Originally from Houston, the "Cigar Empress" as she is known on social media, has been interested in cigars for as long as she can remember, but didn't begin smoking them until she turned 18 years old.
"I've always been interested in cigars," exclaimed Julie. "Growing up, my father smoked cigars and I was always obsessed with the smell. It's very nostalgic for me and any time I get together with my father, we always sit back and enjoy a smoke."
This dazzlin' dame tries to limit herself to four cigars a week, but sometimes can't prevent an overindulgence. Her go-to cigar is the Padron Principe, but lately she finds herself attracted to the Jericho Hill by Crowned Heads.
"The Padron Principe was the first cigar that I ever smoked and you really can't go wrong with a Padron, although the Jericho Hill might be taking over as my new favorite smoke," explained Julie.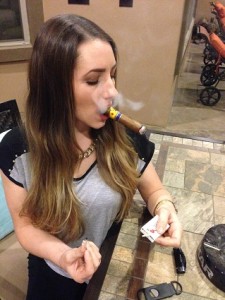 Like most cigar smokers, Julie enjoys smoking her cigars while sipping on a beverage. Her drink of choice is red wine, but has known to treat herself from time to time to a dram or two of Maker's Mark.
"I am a big vino drinker! Red wine is my favorite drink to pair with a cigar," said Julie. "I prefer Malbec, although I've been known to drink Pinot Noir from time to time."
Julie enjoys visiting various cigar lounges around the Houston area but she can't help her bias feelings toward the Man Cave in League City, Texas.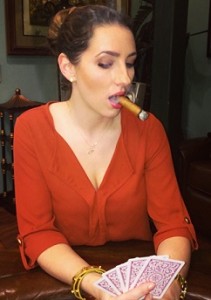 "My fiancé owns a cigar lounge in League City, Texas called, The Man Cave, which has given me the opportunity to learn more about the industry and become more involved," Julie boasted. "However, I am interested in checking out the new Davidoff of Geneva Cigar Lounge that is opening up in Houston."
The Man Cave has plush leather chairs and a warm, inviting feeling where smokers always feel comfortable and at home.
There is no doubt that the Cigar Empress adds plenty of sex appeal to the cigar industry. Her classy composure, infectious smile and beautiful eyes can easily entice any man.
"For me, I consider cigar smoking to be very sexual in itself. Maybe it's a subconscious, Freudian oral fixation, but the act of smoking is very sexy. The ritual of cutting, taking a pre-lit draw, lighting up,  then retrohaling while the smoke engorges your palate-it's all very sensual for me," explained Julie.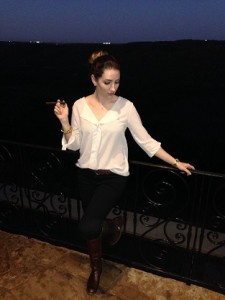 There is no doubt that Julie, "The Cigar Empress", Martin deserves to be this week's Sizzlin' Sunday Cigar Babe. Be sure to follow her on Instagram and Twitter @cigarempress.
"I'm just a simple girl from Texas who enjoys the finer things in life. At the end of the day, there's nothing more pleasurable than smoking on a good cigar, drinking a glass of fine wine and enjoying the company of my friends and family," said Julie.