Jenneff Cigars, a boutique cigar company based out of Pennsylvania, has been producing incredible cigars since its inception. Many smokers outside of the Northeast may not recognize the brand yet, but that is about to change.
Jenneff Cigars, named after co-owners Jenn and Jeff (Jenneff) White, began like most other cigar companies. There was an underlining passion burning deep inside long-time cigar smokers who wanted to turn a dream into a reality.
"I have been smoking premium cigars for 17 years," said Jeff White. "There were so many cigars on the shelves that I felt weren't a good value for what you are getting. I wanted to change that."
That change happened in 2012 when White shocked the industry by releasing three core blends that featured quality tobaccos at a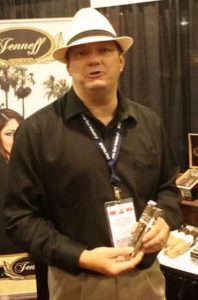 reasonable price.  His maduro cigar features a beautiful San Andreas maduro wrapper that envelopes a binder from the Dominican Republic and a filler blend from Nicaragua and Dominican Republic.
White began to pound the pavement armed with a list of stores to visit and his first 100 boxes.
"I was proud of my product," stated White. "I had my cigars and I had my game plan."
"The maduro is a smooth smoke that is very flavorful with a medium strength," said White.
The Jenneff Connecticut is cloaked in an Ecuadorian Connecticut leaf that wraps a Dominican binder and Peruvian and Dominican filler. It offers a very mild, creamy smoke with notes of coffee and cocoa. The third release boasts a Dominican sun-grown habano leaf that wraps a Nicaraguan binder and a Dominican and Nicaraguan filler blend.
"The Habano is a little spicy. It offers a taste of pepper," White explained. "It is not a full-strength cigar but I like to call it a medium with a kick."
Since his original three releases, Jenneff Cigars has brought two additional lines to the market, which were showcased this past July at the International Premium Cigar and Pipe Retailers trade show in Las Vegas – The Jenneff Family Blend and the Jenneff Session 2.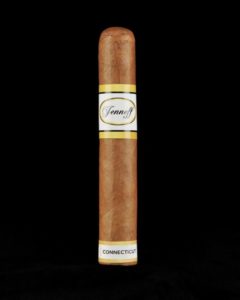 The Family Blend was named after Jeff and Jenn's cooperative input in the blend.
"I took things that I look for in a cigar and what Jenn looks for in a cigar and we successfully married the two so this is truly a 'family blend' for Jenneff Cigars," explained White.
The Jenneff Family Blend has a Brazilian maduro wrapper, Dominican olor binder and Cameroon, Dominican criollo and olor and Nicaraguan ligero fillers. It is offered in the perfecto size only and is available in 20ct boxes.
The Jenneff Session 2 is offered in three different wrappers: maduro, Connecticut and habano. Each are available in three vitolas: robusto, toro and gordo and available in 20ct boxes.
Jenneff Cigars are produced at the Jose Domingues factory in Santiago, Dominican Republic.
The last two years have been very good to Jenneff Cigars. Their production has grown, the profile has expanded and the demand for their cigars has increased immensely. Jenneff Cigars is now in 67 cigar shops around the country.
"This last year we really grew leaps and bounds," White exposed. "I am really amazed and humbled by the reception that we have gotten and the support we have gotten both from shops and from customers willing to give up their hard-earned cash to try a new brand."
Jenneff Cigars are appealing to both the aficionado and the beginner because of their smooth, flavorful cigars that don't over power the smoker with an uppercut of strength. They have a great variety of blends that exude different flavor profiles at the perfect price point.
"As we grow I want to expand my footprint beyond the Northeast. This is my life. This is my passion. My goals are to do this pretty much forever," stated White.