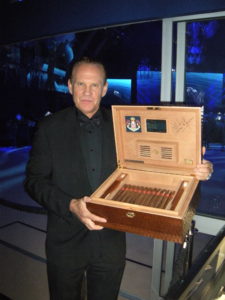 Los Angeles, Calif. (October 11, 2017) – A one-of-a kind HSH Prince Albert II of Monaco Humidor by Daniel Marshall featuring special edition Daniel Marshall cigars was among the auction items supporting the Prince Albert II of Monaco Foundation's Gala for the Global Ocean, September 28, 2017 in Monte Carlo. The auction presented by auctioneer extraordinaire, Simon de Pury, raised over $14 million to support the Foundation's initiatives in favor of a sustainable global ocean.
The live auction, conducted by de Pury, was filled with once-in-a-lifetime experiences, collectibles and memorabilia, and a selection of fine art from some of the world's most important artists including Pablo Picasso, Francis Bacon, Haas Brothers and Jeff Koons. Included in Lot No. 2 was an extremely rare and never sold, one-of-a-kind humidor handcrafted by Cigar Aficionado's No. 1 rated humidor designer in the world, Daniel Marshall.
The "1 of 1" humidor, crafted in California, required four months to create, and was hand carved from solid American Alder harvested from a renewable forest. The exquisite humidor included a special 24-carat gold hand-carved personal seal of His Serene Highness Prince Albert II of Monaco. This rare masterwork of art was further embellished with Prince Albert's Family coat of arms and was signed by HSH Prince Albert II. A truly unique collector's piece, the humidor was filled with 92 point rated Daniel Marshall Red Label Churchill Cigars and two DM 24-carat Golden Torpedo's. Lot No. 2 raised over $93,000 USD (75,000 euros) to support the Foundation's critical programs that protect our global oceans.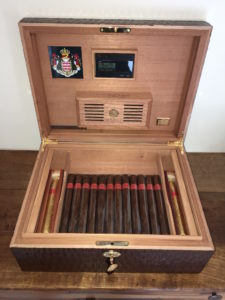 With 11 years of experience worldwide, the Foundation has clearly positioned the Ocean among its top priorities. The Gala was presided by HSH Prince Albert II of Monaco and hosted by its Global Fundraising, Chair Milutin Gatsby. The inaugural "Monte Carlo Gala for the Global Ocean" honored Leonardo DiCaprio for his outstanding actions for the preservation of our Planet. Uma Thurman, Goldie Hawn, Andy Garcia, Kevin Spacey, Eva Longoria, Madonna, Joe Pesci, Martin Scorsese, Governor Arnold Schwarzenegger, Tobey Maguire, Enric Sala and Terry Tamminen were the Event Chairs, confirming their commitment to this important cause.
Over the 35 years that Daniel Marshall has been creating cigars and humidors, Marshall has been inspired to create unique pieces for charity.
"Congratulations to HSH Prince Albert II of Monaco, Olivier Wenden, Prince Albert II of Monaco Foundation's Executive Director and to his outstanding team; Global Fundraising Chair Milutin Gatsby and Simon de Pury for their relentless commitment to this vital cause" said Marshall. "Thank you Andy Boose and his stellar event company and team at AAB Productions for organizing this beautiful event."
Marshall added, "Prince Albert II Foundation's mission to protect our planet's oceans has special significance to me with my boyhood love of the sea, sailing and surfing. I commend Leonardo DiCaprio for receiving 'The Award of the Albert II of Monaco Foundation.' In the words of HSH Prince Albert II of Monaco, 'Every other breath we take is produced by the oceans.' Such a powerful statement resonates so deeply, making me proud and compelled to be a part of this urgent need to protect our global oceans to ensure health,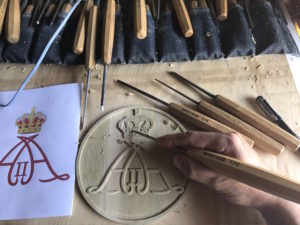 safety, and prosperity for our children and all future generations."
View the video of HSH Prince Albert II's Humidor & Cigars being auctioned at the event https://youtu.be/G3Zvw_FoId4
Preview Lot 2 and the entire auction collection here: http://de-pury.com/auctions/33
For more information on the Prince Albert II of Monaco Foundation, visit their website at: http://www.fpa2.org
About Daniel Marshall
Daniel Marshall, a 35-year veteran of the cigar industry is one of the world's leading names in No. 1 rated top quality humidors and finest cigars, including the coveted 24kt Red Label Golden Cigar. DM Humidors are enjoyed in the homes and offices of countless Hollywood celebrities, US presidents, dignitaries, titans of industry, and fashion designers among others. Marshall is also a cigar and humidor supplier of England's Royal Family. Since 1982, Daniel Marshall has created and designed for the prestigious luxury gift houses Dunhill, Tiffany & Co., S.T. Dupont, Cartier, Hermes, Fred Joaillier, Harrod's, Bally of Switzerland and Garrard's of London. Daniel Marshall's humidors are historic, with a collection on display at the Smithsonian Museum. Visit Daniel Marshall's site at www.danielmarshall.com. You can also find Daniel Marshall on Facebook at www.facebook.com/danielmarshallhumidorsandcigars Follow Daniel Marshall on Twitter @DMCigarWorld & Instagram@DMCigars for real-time updates