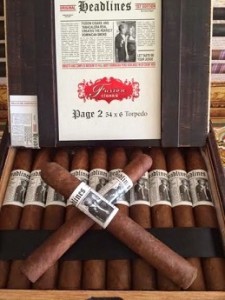 Fusion Cigars is a fairly new boutique cigar company that is gaining a lasting reputation with smokers. It is a Florida based company owned by Diogenes (Dee) Aquasvivas that, since its early 2015 rebranding, is distributed by Antillian Cigar Corporation (Sosa Cigars).
"Our cigars are different," Aquasvivas revealed. "Our cigar, Headlines, is a blend that is original, doesn't taste like anything else on the market today. It is an easy, pleasant smoke with pleasant aroma."
Headlines is the company's first brand with its third blend under the Headlines umbrella scheduled for release this December.  The company has an eye-catching theme and unique method of branding. Like the name Headlines suggests, the theme is based on a newspaper layout. The band is a replicated newspaper page revealing the history of that particular cigar on each stick. The blends are called "Editions" and the sizes are called "Pages."
The First Edition, which was the company's original release back in 2012, is a Dominican puro. It features a Pennsylvania Broadleaf seed wrapper grown on the Dominican Republic with a Dominican Habano binder and a filler of Piloto Cubano, Piloto Cubano ligero, and Criollo. It is a medium-bodied cigar that is slightly complex but very tasty. It is available in three sizes: Page 1 (5.5 x 60), Page 2 (6 x 52) and Page 3 (6 x 50).
"The First Edition Page 2 is our best selling cigar," explained Aquasvivas. "It starts out with a lot of pepper then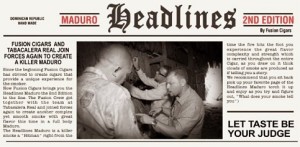 sweetens out a bit."
The Headlines Second Edition is a maduro that was released in 2014. It features a Dominican Habano Oscuro wrapper that envelopes a Dominican binder and Dominican fillers comprised of Piloto Cubano, Dominican 20-20 and Andullo. Andullo tobacco undergoes a more complex curing process than more traditional tobacco leaves and is not widely used in today's cigars.
In December, 2015 Headlines will release its third blend, a Connecticut. It will be a special edition released in boxes of 10 and available in only one size, Page 2 (torpedo). Under the Connecticut Claro wrapper will be a Sumatra binder that "gives it a really nice burn."
Going forward, the company looks to add different sizes to its current portfolio. Today, Headlines has mild, medium and full strength cigars available in the industry's most popular sizes. Aquasvivas hopes to add his favorite vitola, lancero, to the lineup as well as the corona. Aquasvivas also plans to make different sizes specific to individual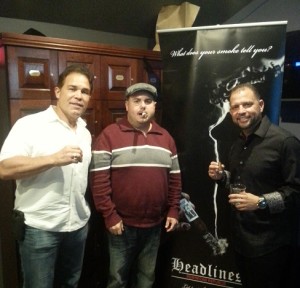 retailers based on the shop's inventory requests. Down the road, Aquasvivas plans to add a Headlines Nicaragua and Headlines Honduras to his portfolio.
The Headlines cigars are made at Tabacalera Real in Tamboril, Santiago on the Dominican Republic. Radhamas Perez, who has been making cigars for the past 18 years, is the blender behind the sticks. Most of the filler tobacco used in Headlines is grown on Perez's farm while the maduro comes from Leo Reyes' crops.
Aquasvivas isn't entirely new to the cigar industry. After retiring from law enforcement, he opened Fusion Cigar Lounge in Clearwater Beach, Florida in 2010.  Headlines started out as the lounge's 'house blend' before being available nationally.
As Aquasvivas says, "Let Taste be your Judge."