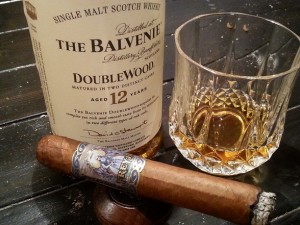 – A cigar worthy of her name! It is a brilliant showcase of Dominican tobaccos that offers incredible flavor, beautiful construction and a very satisfying smoking experience.
Freyja is the second brand launched under the Las Cumbres Tabaco umbrella, a company owned by Jose Blanco and his wife Emma Viktorsson. Freyja, named after a Viking goddess of beauty and fertility, was a 'secret project' blended by Emma, without the help of Jose Blanco.
I met Freyja prior to her launch at the IPCPR trade show in New Orleans this past summer, then again at her launch party in September at Sanj's Smoke Shop in Bloomfield, NJ. Today, she and a few of her twin sisters rest comfortably in my Daniel Marshall humidor.
I remember vividly when Freyja's mother, Emma, introduced us. I have entertained a few of the other Las Cumbres girls like Senorial, Senorial 65th Anniversary and Senorial Maduro so Emma knew her precious goddess, Freyja, was in good hands with Ol' Ash.  My emotions began running on octane as soon as Emma placed Freyja in my hand.
I have been thinking about Freyja a lot. Truth is, the amount of time I spend thinking about Freyja is probably unhealthy, borderline obsessive. Her physical beauty, her savory flavors and her memorable experiences are too impressive to forget. So, after another afternoon of daydreaming I decided to take Freyja out for another riveting evening of pure pleasure.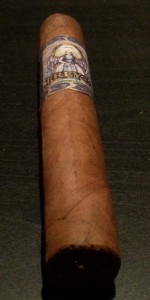 When I opened my Daniel Marshall humidor, Freyja was staring at me. It was an inviting glare that certainly excited me, especially since the only stitch of toggery that she had on her body was an opulent band draped across her chest  featuring an oil painting-styled image of herself. But, it was her nude, colorado-colored flesh that grabbed my attention. It was an exquisite Dominican Criollo '98 wrapper leaf that was smooth and oily with small veins and near invisible seams. Her 5 ½ x 50 frame was firm, well-packed and aromatic. She emitted an intoxicating perfume of earth and spice that totally captivated my senses.
Freyja is a unique dame. Why? Because of her binder. This titillating temptress boasts a Mexican San Andreas binder. That's right, her binder is Mexican San Andreas. This leaf is most commonly used as the wrapper, but Emma wanted her goddess to be distinct and extraordinary. And, boy is she unforgettable. Underneath this intriguing dame's binder lays a filler blend of Dominican Criollo '98, Dominican Piloto Cubano and Nicaraguan Esteli tobacco.
Enough of this nonsensical admiration. It is time I unmask her beauty and savor her flavors. I clipped her cleanly applied cap then warmed her foot with a torch of butane. She was now primed for action.
The opening moments were remarkable.  Her initial kiss was sweet, tender and savory mixed with a dollop of spice. It was quite intriguing if I may say so. Her sweetness was that of sugarcane or molasses and her spice was subtle yet pronounced. She was definitely trying to impress me right from the get go. I also picked up some cedar and earth as the first third of our tryst came to a close.
The second third opened in similar fashion. Freyja continued  to release flavors of earth and cedar mixed with a sweet and spicy coupling. However, I started to sense some bitter chocolate peeping in the profile and her earth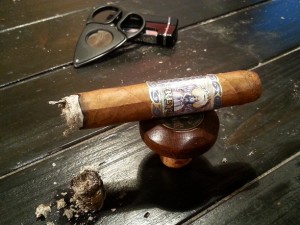 notes were rich and prominent at this point. And, her smoky breath was getting thick and creamy. Her finish left behind a sweet tingle as the smoke rolled lazily from my lips.  Boy, was she decadent. This Dominican heartthrob certainly knew how to satisfy her man – sweet, supple, and creamy.
As hard as it was for me to rest my dear goddess on a nearby ashtray, I had to take a moment to admire her construction. Freyja's char line was still dead even and her smoke output was incredible. I breathed in her amorous aromas as I gawked at her languid smoke rings dancing about my cigar cave.  Her light gray ash was a little loose but still held on for more than an inch before it deposited itself on my lap.
The final third was upon us and Freyja spent every minute of our remaining time together satisfying me. If she wasn't locked between my lips then she was bounded by my fingers, either way, we were inseparable until the end. She continued feeding me welcoming flavors of rich earth, subtle spice and natural sweetness. At this point the sweetness morphed into that of dried fruit from the molasses or sugarcane of earlier. Nonetheless, she was delicious.
I can reflect back on my remarkable night with Freyja now that she is nothing more than a lasting memory and a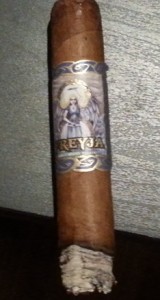 carcass of ash. She certainly was a goddess in every sense of the word. Her construction rivaled that of a supermodel and her body was complex and full of flavor. I absolutely loved her sweet and spicy profile. What I found most intriguing was how her sweetness changed throughout the experience – from sugarcane and molasses to dried fruit. Her strength started at medium but ended close to full. She was a slow burning dame that did not need much maintenance at all, a touch up here or there was all she needed. Freyja and I will definitely be seeing much more of each other in the very near future. You don't know how excited I am to know that I have a few of her twin sisters resting comfortably in my humidor waiting to be explored.
Specifications:
Factory: Tabacalera Palma
Wrapper: Dominican Criollo '98 (aged 4-5 years)
Binder: Mexican San Andreas
Filler: Dominican Criollo '98, Dominican Piloto Cubano, Nicaragua Esteli
Price: $7.85