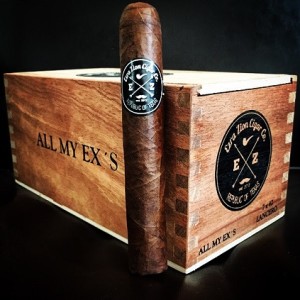 – A carefully crafted cigar that is well balanced and flavorful with great construction and a smooth draw – an extorted treasure from the womb of earth.
I have smoked and reviewed most of the Ezra Zion releases prior to reviewing the All My Ex's and I must say, this baby rocks. It certainly rivals the best of the best in the Ezra Zion family.
According to the company, "We are constantly trying to challenge ourselves in our blending. The next cigar has to be better than the last," said co-owner Kyle Hoover. "All My EX's is a blend that we've been working on for over a year to perfect."
Chris Kelly added, "This is 'next level' Ezra Zion. We are having fun m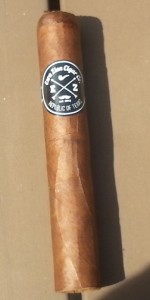 aking great cigars. I think it comes out in this blend."
The night started as the kind of evening that makes life worth living, good food, fine Scotch and a premium cigar. It promised a welcomed respite from an ultra-sensitive world that has been eating at me as of late. Needless to say, I was looking forward to some amorous activities to quell my anger.
I opened my humidor and stared at my bae, not a clinical stare, but one of lust and desire. It is quite ironic that I chose a cigar named "All My Ex's" as a means to suppress rage, but her nude, dark brown Ecuadorian Habano wrapper leaf was too stimulating to resist. She was silky smooth with small veins and near-invisible seams. Her 6 x 52 frame was bejeweled by a newly designed band that was appropriate for this Nicaraguan heartthrob with Texas roots. Her body comprised of a Nicaraguan binder that enveloped Nicaraguan Corojo and Criollo fillers. She emitted an intoxicating perfume of floral scents coupled with a bitter sweet chocolate. She smelled so yummy I quickly whipped out my cutter, clipped her soft, clean single cap and massaged her foot with a single flame of soft butane.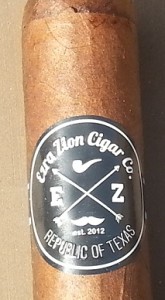 Since this was not my first rodeo with one of the Ezra Zion gals, her two dads, Kyle Hoover and Chris Kelly knew that their little girl was in good hands with Old Ash. However, those beards scare me so I made sure that I treated their little lass with extra care.
I know how good Ezra Zion gals taste so I didn't waste any time making my first move. I leaned in for the first kiss immediately upon firing up this temptress and I was greeted in typical Nicaraguan fashion – a tongue full of spicy pepper and earth. I love those Nicaraguan dames who exude a bit of 'tude. They get my motor running if you know what I mean. It didn't take her long to ease up. Her spicy breath morphed into a nutty sweetness that tampered out most of the pepper.
All My Ex's was a low maintenance mistress who provided her man with a very enjoyable experience. The draw on this paramour was perfect, not too loose like she was giving herself away, but not too tight either where I had to work overtime to taste her flavors. Her burn was cool and consistent creating a char line that was straight from foot to nub. She released billowing screams of dense white smoke that was rich and palpable. The ash on this Latina was 'rumptious', thick and charcoal in color with black speckling.
All My Ex's maintained a very balanced flavor profile as I continued to work down her body into the second third of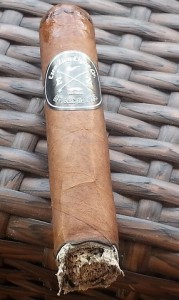 our rendezvous. She began to feed me amorous bites of coffee with sweet cream and dried fruit. I even began to savor the leather notes that began to creep into the profile mixing with the nuttiness from earlier. Her smoke became creamy and her finish was long lasting.
I was already drunk from her flavors by the final third of our nocturnal romance but I was more than happy to consume as much love as she was willing to offer. Her profile didn't change much at this point as she continued to pour on the coffee, nuts, earth, dried fruit and cream flavors from earlier. The spicy pepper reemerged and a woodsy flavor, perhaps cedar, began to show itself late in the game. Her smoke remained creamy and satisfying as it rolled off my lips. Our final moments together were memorable to say the least.
Now that All My Ex's was gone, I have not stopped thinking about her. She really did impress me with her flawless construction and balanced, tasty flavor profile. Her strength was a medium to full with plenty of flavor from start to finish. It was tough being with a girl named "All My Ex's" because it did stir up some steamy memories from years past – ex's who knew how to please. I definitely recommend All My Ex's, for she is a heart breaker deserving of your attention.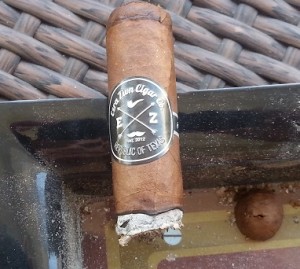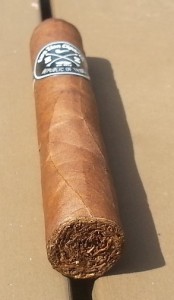 SPECS:
Factory: Tabacalera Aromas de Jalapa in Nicaragua (owned and operated by Noel Rojas)
Wrapper: Ecuadorian Habano
Binder: Nicaragua
Filler: Nicaragua Corojo and Criollo
Strength: Medium – Full
Price: $8.95 USD