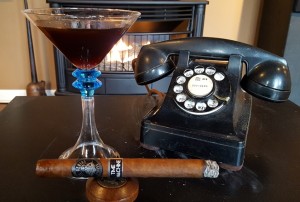 A nice, solid smoke using a rare combination of tobaccos to bring you a unique experience that is very satisfying.
The Time Machine is the third release by Evil Genius Cigars and its first under the company's new branding. Evil Genius is a boutique brand that is experiencing healthy growth as it expands beyond its Pennsylvania roots. For more detailed information on Evil Genius Cigar Company, click here.
I first met the Time Machine this past July at the International Premium Cigar and Pipe Retailers trade show (IPCPR) in New Orleans. More specifically, it was at an afterhours get together among cigar makers at a local cigar lounge not far from Bourbon Street. Her father, Alex Hirsch, handed her off to me while we were sipping on a Hurricane, the famed cocktail of New Orleans. Papa Hirsch asked me if I wanted to 'try' his beloved Time Machine. When he presented her to me my immediate response was, "Hell yea I want her." So I excused myself from the group and took Papa Hirsch's little darling to a more private setting where we enjoyed some amorous activities.
We got to know each other quite well during some pre-smoke foreplay. It turns out that Time Machine is a unique dame concocted from laboratory research and analysis. Yep, my little gal pal intrigued me already. To be honest, I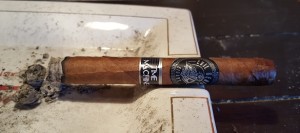 haven't stopped thinking about Time Machine since our initial fling. Her physical beauty and tasty flavors had clouded my thoughts for months, so it was time to pay my dream bug another visit. The second tête-à-tête was even more enjoyable than the first.
Her firm, well-packed 6 ½ x 42 frame was cloaked in an impressive Nicaraguan Habano wrapper leaf that was absolutely stunning from head to foot. She sported little veins and near invisible seams. The flesh on my little paramour was chocolate brown in color, slightly oily and smooth to the touch. I had to slide my fingers down the contour of her body several times just to be sure.
Her wrapper enveloped a Nicaraguan Corojo binder and a filler blend comprised of Cameroon and Dominican Republic long fillers. Tobacco from the Cameroon region of Africa is not used as filler very often, but it definitely should be. It added an eroticism and mystique to Time Machine that I appreciated. As we inched a bit closer to one another I smelled an alluring scent of sweet fruit exuding from her flesh and a general sweetness from her foot.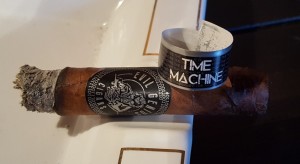 I could not control my urges any longer. Enough of the nonsensical dalliance. It was time to get down and dirty with Time Machine. I whipped out my cutter, clipped her perfectly applied cap and massaged her foot with a torch of butane. I usually experiment with a cold draw before sparking up my gals but there was something about Time Machine that made me lose control of myself. Her sex appeal really revved my engine.
Our initial kiss was flavorful. Many cigars take an inch or so before they expose their true character, but not Time Machine. She 'exposed' herself right from the get-go. My tongue was bathed in sweetness and earth. Cedar was also a prominent flavor coating the inner linings of my mouth and palate. Those three flavors continued to dominate as I progressed deeper into the first third of our rendezvous. At this point, Time Machine's burn was even, her smoke output was impressive and her strength was at the upper end of mild, almost medium.
The second third started out very similar to the first. However, I started to pick up stronger cedar notes than earlier. A fruity flavor, perhaps dried fruit, intermittently appeared throughout the second third.  The earth and sweetness remained and continued to satisfy me. Time Machine was most decadent at this point. Her yelps of smoke were intoxicating, her flavor profile was savory and her char line was on fleek. Her firm, white, robust ash held on nicely  for about an inch and a half before depositing itself on my lap. Her body was at a solid medium and her strength remained at the low end of medium, tottering on mild.
Unfortunately, our time together was starting to wither. It was getting late and we were well into the final third of our tryst. Nonetheless, my coy mistress continued to feed me tender flavors of affection. While the earth notes became dominant, cedar remained pungent and feisty. Her finish, which left a pleasant creaminess behind, was medium in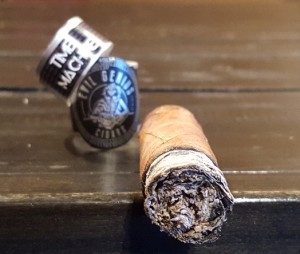 length. Her smoke output continued to invade the air space and her aroma lingered under the nostrils of ogling onlookers.
I undoubtedly enjoyed my time with Time Machine and I heartily thank her father, Alex, for introducing us. I believe the extraordinary mix of tobaccos added to her unique smoking experience. She was a coy dame, teetering between mild and medium strength. Her flavor profile was tasty and certainly not overpowering. Her construction was great, her draw was perfect and her char line remained unwavered. I recommend this cigar to just about any smoker who appreciates a nice, smooth, tasty cigar that promises an enjoyable smoking experience – perfect for beginners, a change of pace for seasoned veterans.
---
Statistics:
Made at La Aurora Factory on Dominican Republic
Wrapper: Nicaraguan Habano
Binder: Nicaraguan Corojo
Filler: Cameroon and Dominican Republic
Price: $7.60