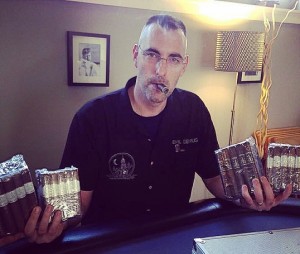 Evil Genius cigars is the brainchild of Alex Hirsch, a cigar enthusiast from Bethlehem, Pennsylvania who brings a unique perspective to the art of blending. Hirsch, who has been smoking cigars for more than 20 years, brings passion, knowledge and science to the cigar industry.
"My former business partner was doing some lab work analyzing premium cigar blends trying to better understand them that way," said Hirsch. "He had replicable data."
That "replicable" data translated into a company that produces carefully crafted cigars based on analysis and market research. The incorporated name is Smoking Science with Evil Genius being the brand name behind their blends.  HIrsch is a bit of a science 'nut' who wanted to couple his passion for the leaf with his respect for science.
Smoking Science, AKA Evil Genius, initiated its trek into the cigar industry in June, 2013 when they began developmental work and blending with the famed La Aurora cigar factory on the Dominican Republic. It was July, 2014 when they launched sales at the International Premium Cigar and Pipe Retailers trade show (IPCPR) in Las Vegas.
So why the name Evil Genius?
"Like most good things, the name Evil Genius came to us by chance," explained Hirsch. "The band designer we were working with was familiar with the scientific background we were bringing. One day he sent us a doodle of a mad scientist in a laboratory smoking a cigar with the words, "Evil Genius Cigars. I absolutely loved it."
The company currently offers 13 facings among its three lines – Black Chapel, White Chapel and The Time Machine. The Black Chapel and the White Chapel were the debut lines. The Black Chapel is a Brazilian Maduro wrapped stick that is aged for six months in rum barrels. The binder is Dominican Corojo grown in Ecuador and the filler is a blend of Dominican, Nicaraguan and Peruvian tobacco.  It is a cigar of medium strength and top-notch construction.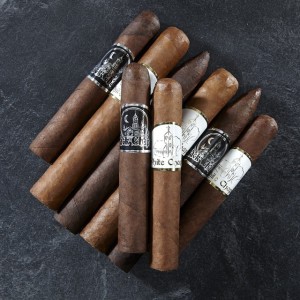 "I have always been a big fan of the La Aurora Barrel Aged cigars and the Black Chapel is a reboot of that," Hirsch divulged. "I wanted to do something barrel aged and it turns out in 2015 it is all the rage. This is a really rich Brazilian Maduro with that barrel aging."
The White Chapel features a habano wrapper with an Ecuadorian Sun-Grown Sumatra binder. The filler is comprised of ligero and seco primings from the Dominican Republic and Lancaster, Pennsylvania. It is described as a balanced cigar of full strength.
"The White Chapel was originally an internal project that La Aurora was working on for the North American market," Hirsch told Ultimatecigarparty.com. "They were looking for a more full-bodied offering but La Aurora is not traditionally known for that. I loved it when I smoked it. With a few tweaks that was the genesis of the White Chapel blend."
The company's third offering is The Time Machine. This blend is a medium-strength cigar featuring a Nicaraguan Habano wrapper, a Nicaraguan Corojo binder and ligero and seco fillers from Africa and Dominican Republic. It was released this past July at the IPCPR trade show in New Orleans and is now available at retailers.
As noted above, Evil Genius Cigars are made at the La Aurora factory on the Dominican Republic. La Aurora is celebrating 108 years of continuous operations. They own five industrial-sized warehouses of tobacco from all over the world including, Brazil, Peru, Dominican Republic, Nicaragua, Pennsylvania, Ecuador and Africa.
"I am personal friends with La Aurora and we have the luxury of having a facility of resources like that for a company as small as we are," said HIrsch. "Basically, we are getting away with stuff that we shouldn't be getting away with at our size."
HIrsch's relationship with La Aurora started about six years ago after he founded the Lehigh Valley Cigar Club in Lehigh Valley, Pennsylvania. Hirsch had a chance encounter with Jose Blanco, who was La Aurora's master blender at the time. Blanco invited Hirsch to the factory and the rest, as they say, is history.
"World Domination One Cigar at a Time" is the company's tagline and that is, precisely, the plan for future growth.
"We have great cigars. Our first production was 25,000 cigars, which is tiny by industry standards but terrifying for me, and those all sold out. We are on our later production now," boasted Hirsch. "Our goal is to grow slowly, let people know we exist and get them out there."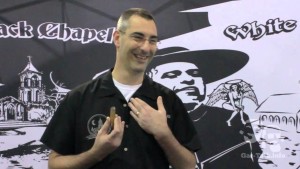 There are a lot of excellent cigars on the market today so why should smokers choose Evil Genius Cigars over the competition?
"My hope is that people will find us, they will enjoy the cigar and they will put me in their occasional rotation," stated Hirsch. "There are legitimately a lot of good cigars out there. I like to think that mine are three of those offerings and if people would be kind enough to enjoy one of mine every now and then, that is good enough for me."
Hirsch has a few new concepts that he plans to see into fruition in 2016.
"I have a lancero that I am not totally sure what I am doing with yet. What I am looking at now is to do a unique size across all three blends," HIrsch revealed. "The possibility of a #1 size double perfecto rolled by La Aurora. It is a classic traditional size. If you see a Tom and Jerry cartoon that is what they are smoking.  Number 1 is a larger size. I absolutely love it."
Evil Genius Cigars has seen a steady rate of growth since its inception and the future certainly looks promising for a cigar company that brings a unique approach to a centuries old industry.
"I am making cigars that I think are great cigars," said Hirsch.