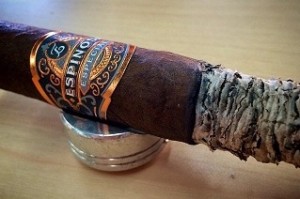 Review by Juan Cancel
I visited Esteli, Nicaragua in late February of this year. While there, I visited my dear friend Erik Espinosa. While I was with a large group of 11 other friends, including the BOTLNYCHAPTER, I was able to spend some one-on-one time with Erik.
I would love to get into this business, so I try to learn from those who have made it. While I was at the La Zona Cigar Factory, Erik gave me a cigar to smoke. He said, "I want you to try something." When I picked up the cigar, the first thing that I noticed was how beautifully constructed it was. This Toro-sized Maduro cigar was picture-perfect – dark, beautiful and oily.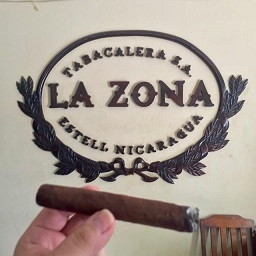 Next, I smelled the cigar. I was amazed on how aromatic it was. It emitted intoxicating aromas of earth and coco with a slight hint of raisin. I asked Eric "what is this cigar?" Without answering, he said, "light it and try it." Immediately, I clipped my cigar and lit it. With the first few puffs, this cigar gave me "pause." I was absolutely amazed at how well the flavors and aromas harmonized into a beautiful piece of art. My toes curled, my mouth watered, and my jaw dropped. This cigar was utter magic. With amazement I asked Erik, "what is this, exactly?" What Erik told me next was life-changing.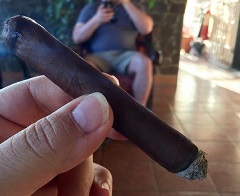 He proceeded to tell me that the cigar I held in my hand was basically the Laranja Reserva, just slightly tweaked with a Mexican San Andreas wrapper. Boom!!! The reason why this was so mind-blowing to me was that when I first tried a Laranja Reserva, the first thing I said was, "Wow this is an amazing cigar!!!" The next thing I said was, "this would be phenomenal with a Mexican San Andreas wrapper." Low and behold, in my hand I had the cigar that I had fantasized about only six months prior. It had been as if Erik had read my deepest cigar desires and made them a reality.
This cigar is smooth and creamy with nuttiness and pleasant pepper on the retro hale. The Mexican San Andreas wrapper adds sweet coco and woody notes to the flavor profile while deep, rich aromatic plumes of smoke pour out from a tight, dense ash. Like the Laranja Reserva, the Espinosa Especial also boasts a warm, spicy Cafe con Leche finish that is long lasting and extremely satisfying on the lips.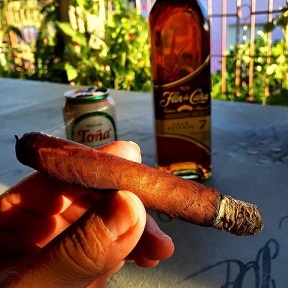 The Espinosa Especial has a harmonious balance of aroma and flavor that creates an absolutely majestic smoke.  It is deeply complex with each flavor flowing evenly and independently at different times. It is a strong medium-bodied cigar that is simply a piece of art.
I was in awe as I sat in a straw rocking chair on the second floor of the La Zona Cigar Factory puffing on my second Espinosa Especial of the day. Perhaps it was the setting, but as I sat inside the heart of Espinosa Cigars, it was at that very moment that I realized that I have never smoked a finer cigar in my life. Erik Espinosa had just created an incredible, mind-altering cigar that had totally captivated me. I have come to believe that Erik Espinosa can do anything.
I proceeded to chain smoke three more Espinosa Especial cigars that day, and it was the only cigar that I smoked for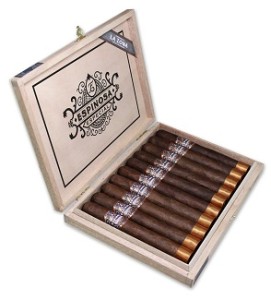 the remainder of the trip. I had to prove to myself that my initial prognosis was not a figment of my imagination. It turned out that it, indeed, was the perfect cigar.
I smuggled a few home and gave them a week of rest to see if it was the environment that had captivated me or if it was, indeed, the cigar itself that had elevated my senses to a new level.
The Espinosa Especial had, yet again, exceeded my expectations. Try one for yourself once they are released in April and let me know your thoughts. For those of you that love Espinosa's Laranja Reserva, you are going to worship the Espinosa Especial!