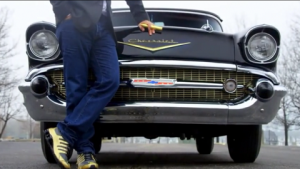 The Daniel Marshall 24kt gold torpedo cigar is the most sought-after and renowned cigar in the world. It has become the definitive symbol of success, an ultimate celebration cigar. So, it is no surprise that Hollywood stars Steve Harvey and Jerry Seinfeld shared this experience together on Seinfeld's Internet show, "Comedians in Cars Getting Coffee."Since the first episode, this web series has received over 100 million views.
"Comedians in Cars Getting Coffee" is a widely popular comedy web series where long-time funnyman, Jerry Seinfeld, is joined by well-known comedians for a cup of coffee and a ride in a classic car. Seinfeld recently invited Harvey to the show for a cruise around Chicago in a classic 1957 Chevy Bel Air V8 convertible. After coffee and a cruise, Harvey and Seinfeld visited BIGGS Cigar Emporium, a highly acclaimed cigar lounge that Harvey described as "The greatest spot in Chicago."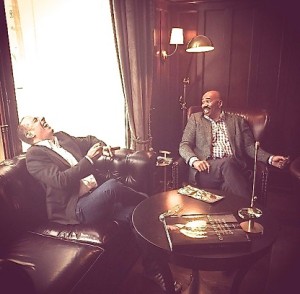 The cigar is initially featured during the first two minutes of the show when Seinfeld talks about the gold accents on the Bel Air. Seinfeld's hand can be seen holding the golden cigar while the camera pans past the car. Later during the episode, about 14:35 minutes in, Harvey tells Seinfeld, "You know what I gotta do Jerry, I gotta give you one of those Daniel Marshall cigars. It's gold."  Then an image of the golden cigar appears on the screen.
Steve Harvey is a huge fan of the Daniel Marshall brand of cigars and absolutely loves the golden torpedo. In fact, he handed out DM Red Label cigars to all the cast and crew after a recent taping of Celebrity Family Feud, which Daniel Marshall attended as Harvey's guest.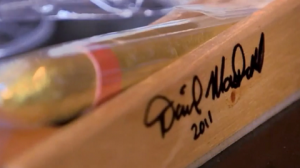 Smoking a Daniel Marshall 24kt Gold Torpedo cigar is a time honored appreciation that sparks a lifetime of memories. Jerry Seinfeld and Steve Harvey are just two of the many people whom have joined the "modern day campfire" to indulge in life's finer moments where people can laugh, talk and ponder. The Daniel Marshall brand is a promise made in every hand-crafted cigar.