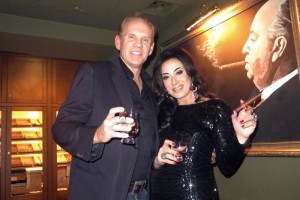 One-of-a-kind three-tier cigar blended to pair with three Glenfiddich Whisky flights
Los Angeles, Calif. (January 15, 2016) – Cigars at No. Ten, one of the finest cigar venues in London was the site of the unveiling of Daniel Marshall's newest creation: a special three-tier cigar designed to pair with three flights of Glenfiddich Single Malt Whiskies. Marshall partnered with master blenders and cigar creators Manuel Quesada and Nestor Plasencia to develop the special cigar featuring three different blends of tobacco in each cigar.
"I am absolutely honored to have been chosen to partner with Glenfiddich the world's number one rated whisky in developing this special cigar," said Marshall. "My wish is for cigar and whisky lovers alike to enjoy, converse, and savor two of life's most wonderful pleasures, fine cigars and whisky, around the modern day campfire."
The first section of the DM Red Label cigar is blended with a Connecticut Shade wrapper leaf grown in Ecuador in 2010, to complement Glenfiddich 12 years. The second section features a Broadleaf Maduro wrapper leaf grown in Pennsylvania in 2010, to complement Glenfiddich 18 years. The final section is blended with a Sun Grown Sumatra/Indonesia leaf grown in 2010, to complement Glenfiddich 21 years.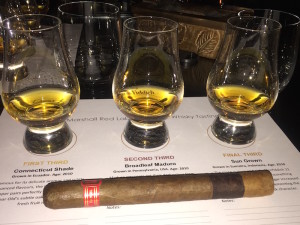 These special cigars were made in Nicaragua for Daniel Marshall and Glenfiddich and aged in Davidoff of London's humidor for six months.
Cigars at No. Ten was the winner of the acclaimed Spectator 'Best Cigar Terrace/Lounge 2014' Award. The event was hosted by Daniel Marshall alongside Joel Eastman, Commercial Whisky Specialist from William Grant & Sons, owner of The Glenfiddich. The invited audience of cigar and whisky retailers and enthusiasts included Whisky Quarterly Magazine Editor Sir Colin Hampden-White, Dave Worthington of UK Cigar Scene and Whiskydiscovery.com, Scott Vines of Tor Imports, Habib Khan and Mr. Osman of JJ Fox – Harrods, Simon Selkin of Robusto House, Ike Latif of Hotel Rafayel London, Ralph Edmondson Warden of The Livery, Tony Scanlan Partner at Scanlan Consulting, Elise Rasmussen, Publisher of Tobacco Reporter Magazine, and Philanthropist and Lawyer Nancy Dell'Olio.
Daniel Marshall/Glenfiddich Tasting Cigar Events are being scheduled worldwide. Please email info@danielmarshall.com or call (714) 923-2889 for details.
Photo Credits: Sir Colin Hampden-White and Dave Worthington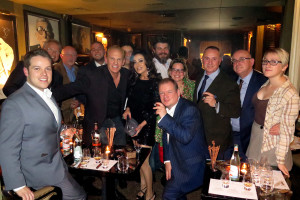 Daniel Marshall, a 33-year veteran of the cigar industry is one of the world's leading names in No. 1 rated top quality humidors and finest cigars, including the coveted 24kt Red Label Golden Cigar. DM Humidors are enjoyed in the homes and offices of countless Hollywood celebrities, US presidents, dignitaries, titans of industry, and fashion designers among others. Marshall is also a cigar and humidor supplier of England's Royal Family. Since 1982, Daniel Marshall has created and designed for the prestigious luxury gift houses Dunhill, Tiffany & Co., S.T. Dupont, Cartier, Hermes, Fred Joaillier, Harrod's, Bally of Switzerland and Garrard's of London. Daniel Marshall's humidors are historic, with a collection on display at the Smithsonian Museum as well as a Museum in Austria. Visit Daniel Marshall's site at www.danielmarshall.com. You can also find Daniel Marshall on Facebook at www.facebook.com/danielmarshallhumidorsandcigars or follow Daniel Marshall on Twitter @DMCigarWorld or Instagram @DMCigars for real-time updates.