1.  Expand our unique and innovative "Cash for Clunker" Program to dealers Nationwide.
 Daniel Marshall is determined to find a way to help cigar connoisseurs trade up to a top quality humidor they can trust. Marshall's goal is to demonstrate and prove how much better cigars taste and how valuable the investment in cigars can become, when properly cared for with a quality humidor. "DM Cash for Clunkers" is the first program of its kind in the cigar world. Daniel and his team were inspired by the very popular "Cash for Clunkers" national automotive program where consumers were able to trade in their used cars in exchange for a cash voucher to apply toward the purchase of a new car.
2. Announce the DM Nationwide tour with Balvenie Whisky and allow dealers to sign up for a in store visit with DM and a Balvenie Whisky brand ambassador for tasting of DM Cigars and Balvenie Whisky. Select dealers will be offered to host a "Golden Moment" Event with the DM 24kt Golden Cigar, the official celebratory cigar.
3. Introduce a bespoke humidor program called " Passion for Harley's" Where customers can order a bespoke Daniel Marshall hand carved American Alder wood Humidor with their own Derby Cover bolted on the top that matches the one on their bike with the Harley Vin Number deeply carved into the top of the humidor. Inspired by the bespoke Bugatti Humidors that DM makes for Bugatti. We will be making a special series that feature the famous "Fat Boy" Derby Cover from the same kind of motorcycle used in the Terminator films. We will auction for charity one of these unique humidors.  Retail: $1295
4. Introduce the final version of our 35th Anniversary Humidor in Macassar Ebony fitted with a rare signed by founders great great grand daughter – a bottle of 21 Year Old Glenfiddich. This humidor was inspired by the very first humidor DM made in 1982 for Alfred DUnhill of London that had a bottle of Dunhill Whisky inside. Retail : $1495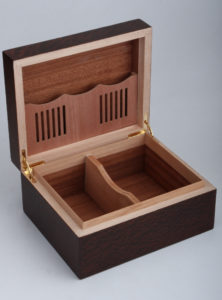 5. Introduce the 35th Anniversary Daniel Marshall Cigar offered in 4 vitolas.  To commemorate 3 and a half decades, this specially blended box aged 2 year cigar features tobacco that is 7 years old. This cigar demonstrates the benefits of box-aging cigars in DM Humidors with its ultra smooth profile and rich flavor. The benchmark of the DM Cigar. Banded with a second band with the marking "XXXV" in gold.  Retail Price range $15 to $18/ per cigar
6. Introducing the Ambiente by Daniel Marshall "Affordable Luxury" Collection.
beautifully crafted matte finish humidor's in Maple, Macassar Ebony, Bubinga and Lacewood, this collection will sport a retail price point of $395 and fitted with a holder for a new DM rechargeable humidity element.
7. Introducing the DM Sampler Pack. DM Cigars will be available for sale in 5 pack sampler pouches. Retail $25
8. Introducing the Daniel Marshall Cigarillo Cases
A most beautiful and elegant way to enjoy your favorite small cigars. Flat pocket version carved out of Macassar Ebony, holds 8 and the Oval, double layered edition holds 10.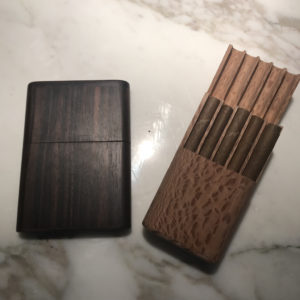 Both are fitted with a solid brass plate allowing for engraving of names or message for a memorable gift.
Handmade in California out of solid brown/black striped Macassar ebony wood from Sri Lanka and a exotic wood that resembles animal skin called Rewa Rewa from Australia. This unique Daniel Marshall exclusive design holds international design patents. the worlds strongest rare earth magnets hold the lid closed with a distinctive wood to wood snap. Retail price $195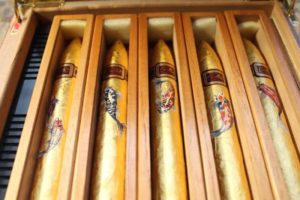 9. The worlds only "Art Cigar"
These special cigar and humidor set are true works of art, made to order for each customer.
The cost for the set of 5 cigars each hand painted with edible ink with different Koi fish and a desk travel humidor with the lid covered in 24kt gold and Koi fish painted will retail for 4995/ set of 5
the humidors are made in CA shipped to Germany for painting and gold leaf to be done by master iconic cathedral restorer that restores the Sistine Chapel. The gold cigars are made by DM, signed by DM and then shipped to Germany for painting of the Koi in edible ink.
both the humidor and cigars are signed by DM and the Humidor is also numbered and signed by the artist in Germany