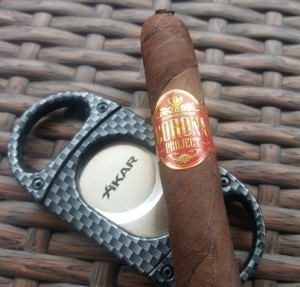 It was a hot and humid afternoon here in central NJ where the thick air was sucking the life out of me, so I hibernated in my air conditioned cigar cave with a premium cigar and a cold brew. My cigar of choice was the Corona Project Limitada Vol. 1 by Rodrigo Cigars.
Rodrigo Cigars is a boutique brand that is making quite a name for itself, and the passion behind these cigars could not be more evident with its flawless construction, striking appearance and savory flavor profile. The Corona Project is the newest release by Rodrigo Cigars and was introduced in 2014.
This Latina is produced at Tabacalera William Ventura on the Dominican Republic, which has been turning out some hot cigars lately. When I picked up the Corona Project Limitada Vol. 1 for a little afternoon rendezvous, she was dressed in a sexy little rustic wrapper made from a U.S. Connecticut Broadleaf tobacco. It was a Maduro leaf that was dark brown in color and bathed in natural oils. She had a gorgeous toothy body with a pig-tailed cap and a covered foot that totally added to her sex appeal. Her rich, succulent wrapper enveloped a Sumatra Ecuador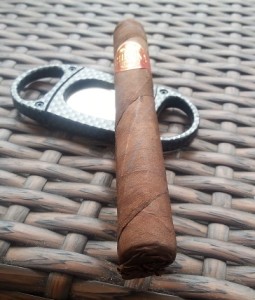 binder and an all ligeor filler blend of Dominican Criollo '98, Corojo and HVA tobaccos. This Corona stands proudly at 5 ¾ x 43. Her flawless body was firm and well packed when given the ol' squeeze test. Her wrapper emitted an intoxicating perfume of sweet spice and coffee.
After I was finally done groping her, I whipped out my cutter, gently snipped her adorable pig-tailed cap and massaged her covered foot with soft butane. When I sensed that she was ready to play, I made my move.  One would have had to be drunk, dense or totally self-absorbed not to notice the magnetism between us. It was magical, like watching the mating dance of the Great Crested Grebe.
Our first kiss opened with an unexpected blast of pepper spice that I found rather intriguing. I love spicy Latinas who are a little feisty.  They usually evoke an eruption of emotions that cannot be controlled. This was definitely not a docile Dominican dame, more of a spirited chica who likes to play. My little beau quickly added coffee and earth to her profile with a bit of herbal essence to homogenize the spice.  As we continued our embrace, I reveled in a moment of intimacy that was tender and sweet but inside I was a simmering cauldron of testosterone ready to explode. I wanted to drink every bit of flavor that my sensual mistress had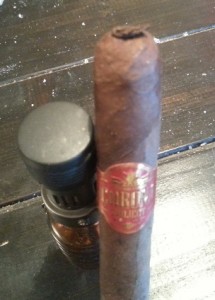 to offer, and boy was she offering. Her screams of smoke were intense. Trails of smoke poured from her foot as I approached the second third.
She has a very satisfying, long-lasting finish of spicy sweetness that blanketed my lips as the smoke rolled off them. This little temptress maintained a medium-strength profile but ramped up in flavor as the day went on. The Corona Project Limtiada Vol. 1 produced a nice even char line with a long, tight, dark charcoal ash that was dense and firm. Her smoke output continued to impress as it danced about in my cigar cave like a shameless school girl.
Into the second third we went. I took a refreshing gulp of Sam Adams Summer Ale before I continued to work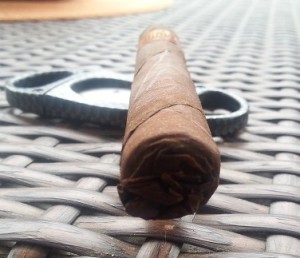 my way down my bae's irresistible body. I now tasted woody notes on her breath along with the fiery pepper spice from earlier. She maintained her herbal and coffee notes as well; however, she began to taste creamy in the mouth. Trust me I wasn't complaining one bit. She can continue giving me soft creamy kisses all night. This Corona Project is the kind of gal who can supercharge any atmosphere.
Her construction is as close to perfect as one can get. Her draw is ideal and her creamy smoke slipped from my lips in a passion of communication as though we were meant to be. Billowing plumes of thick white smoke filled the air with a mouthwatering coffee infused aroma that was thick and palpable. Plus, her slow burn allowed me to exploit her essence that much longer.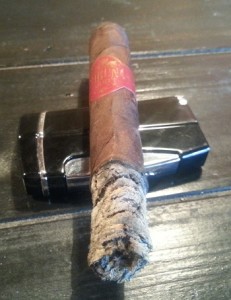 Our night cap was incredible. Her burn line remained on point and her earthy flavors remained relatively the same. However, her herbal notes started to pick up and her strength started to increase as well.
Overall, I really enjoyed this afternoon escape with the Corona Project Limitada Vol. 1. She bedazzled the pants off me for sure and I am certainly looking forward to Vol. 2. The exotic coupling of her oily U.S. Connecticut Broadleaf wrapper and Sumatra Ecuador binder definitely enhanced her vibe.  This is definitely a cigar that deserves a spot in every seasoned smoker's humidor. She was full of flavor and maintained them throughout. Her aroma and burn were sinful and her sweet and spicy persona really intrigued me.  It is important to captivate a man's interest from start to finish and the Corona Project does just that. The flavor will satisfy and the strength will not overpower.
Specs:
Rodrigo Cigars made at Tabacalera William Ventura
Wrapper: U.S. Connecticut Broadleaf Maduro
Binder : Sumatra Ecuador
Filler: Dominican Criollo '98, Corojo and HVA
Strength: Medium – full
Price: $9.50