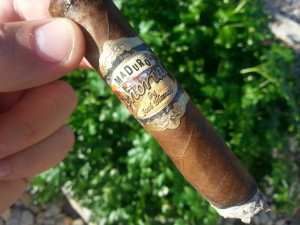 A complex cigar that is smooth, balanced and very satisfying
The story behind the Señorial is that of true passion. This is Jose's third release under his brand Las Cumbres Tabaco. Like all of his work, The Señorial uses top-quality premium tobaccos from his cousin, Jochi Blanco's farm Tabacalera Palma in Tamboril, Santiago on the Dominican Republic.
Señorial's father, Jose Blanco introduced me to his darling at the 2015 IPCPR (International Premium Cigar and Pipe Retailers trade show) just days before it was released to the general public. I am very grateful for Mr. Blanco's cordiality and gracious introduction because Señorial Natural Maduro totally blew my mind.
When we first met, Señorial greeted me wearing nothing more than her dark chocolate colored Mexican San Andres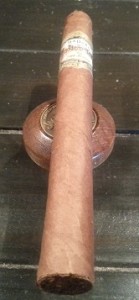 wrapper and an opulent band that featured a hand-crafted painting of an old street in the Colonial zone (Santo Domingo) of the Dominican Republic with the inscription "Maduro" stitched across the top. I couldn't help but notice the radiant glow of natural oils glistening off the flesh of her firm 6 ½ x 44 frame. And, her "rustic" cowgirl body boasted a toothy complexion with sexy little veins running up and down. She was a typical Blanco gal – beautiful, well-constructed and damn near irresistible. She earned her nickname "Natural" from her natural, rustic appearance.
Underneath her wrapper she was packing a Dominican Piloto Cubano binder and Dominican Piloto Cubano and Dominican Criollo '98 fillers, matured under the watchful eye of Jochi Blanco. Her wrapper emitted an amorous perfume of rich, sweet earth that was absolutely intoxicating while her foot revealed more of a spice and chocolate scent.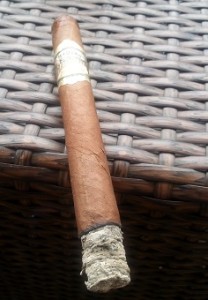 After a little small talk, I discovered the rich history behind her name, Señorial. This exquisite paramour was named by her mother, Emma. Señorial is a humble derivative of the English word "lordly", and is supposed to symbolize Jose Blanco's years of experience.
Hmmmmm, sexy and illustrative, this Latina is perfect. I love a devious gal with a little mystique surrounding her character. It drastically elevates temptation for sure. Without further hesitation, I whipped out my cutter and gently snipped her cap before massaging her foot with a touch of warm butane. My stimulating foreplay got her fired up and primed for action.
Don't let the rugged, cowgirl exterior of this temptress fool you. Her 'rough' appearance belies a gal full of flavor and complexity. Upon our initial kiss, she immediately released a yelp of thick creamy smoke that filled the air with plumes of her sweet breathe that danced about. Her opening smooch was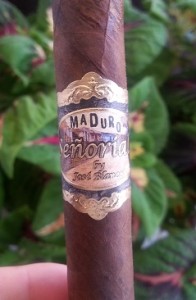 powerful and bold, a memorable moment that tasted of creamy chocolate with notes of coffee and spice. It was not an overpowering spice by any means, but rather an affable passage to a rich, complex flavor profile that got better as the evening progressed.This luscious Maduro fashioned a razor sharp burn line that produced a firm and dense ash that was charcoal in color. The draw of this heartthrob was perfect and the burn was cool and consistent.
As our desire for one another increased so did her flavors. This was where she started opening up and expressing her true self. As I worked my way down her body during the second third of our affair, this lady of the night started to release deafening screams of smoke that revealed an obvious attraction. Her flavors began to increase with each kiss and I began to truly experience her offerings. She was very flavorful, about medium in strength but plenty of body. I continued to take in her chocolate and coffee flavors and her kisses remained creamy and decadent. Her spice remained as well but it was the introduction of earthy tobacco here at the midway point that captivated me. It is the perfect flavor for a cowgirl named 'Natural'. What is more natural than earth?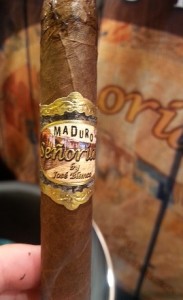 The final third of our night was amazing. We had a great close to a memorable evening together. Her flavor profile pretty much stayed the same but she started to reveal a little more spice as I approached the nub. She continued to greet my soft, methodical puffs with whispers of earth, chocolate, and coffee. Señorial Natural Maduro was a bit stronger at this time but she continued to produce much more flavor than strength. Señorial Maduro's depth and rich character were surely a representation of Jose Blanco's craftsmanship. She was unique, bold and satisfying – the perfect blend. None of her flavors was overpowering the other.
As darkness started to fall and the nub was getting smaller and smaller, a sudden sadness blanketed my emotions. I realized that I would soon have to bid farewell to this mysterious lady of the night with whom I have kept company. My lips pressed firmly against her shoulder as I unwillingly said goodnight with my final puffs.
In conclusion, Señorial Maduro Natural was an incredible cigar with a flavor profile that was extremely satisfying. I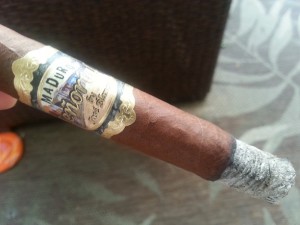 love the rustic exterior that reminded me of what a cigar is supposed to feel and taste like – "Natural". The Lonsdale is the perfect vitola for this blend. I felt that I was able to taste her true flavors in the Lonsdale and was able to appreciate her for who she is –another impressive gal by Jose Blanco. She lived up to the stellar reputation that Jose has manifested and continues to exhibit. This is a cigar that I highly recommend to experienced smokers who enjoy a full flavored smoke that is deep and rich in character. It certainly feels like you are smoking a much more expensive cigar than its modest price tag.
SPECS:
Rolled at Tabacalera Palma in Tamboril, Santiago on the Dominican Republic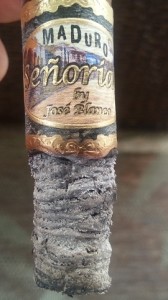 Wrapper: Mexican San Andres
Binder: Dominican Piloto Cubano
Filler: Dominican Piloto Cubano and Dominican Criollo '98
Strength: medium – full
Price: MSRP $7.00