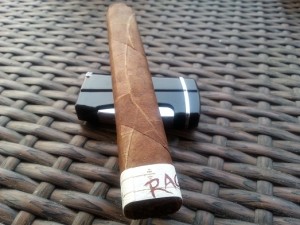 It was a perfect evening in early June with the colorful blooms of spring blanketing my garden here in New Jersey, so I decided to plant myself in the middle of the foliage with a premium cigar and a fine cup of coffee. I moseyed out to the garden with the newly released Rage by Diesel in one hand and a freshly brewed espresso in the other.
This Diesel Rage was a gift from CigarsCity.com and I owe them a million thanks for introducing me to this Nicaraguan dame that is rich and complex with a flavor profile that is to die for.
Diesel  is a brand that is sold primarily through Cigars International (CI), but because of  the stellar reputation of CigarsCity.com and the company's unyielding commitment to customer satisfaction, they too are  an authorized retailer of this highly acclaimed stick.
Diesel, which is made by AJ Fernandez, has made quite a name for itself, and the meticulous craftsmanship behind the Rage could not be more evident with its flawless construction, striking appearance and savory flavor profile. This Nicaraguan blend is the latest in a string of successful Limited Edition releases to accompany the highly touted core lines like Wicked and Delerium.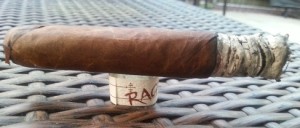 When I picked up Rage from my Daniel Marshall humidor for our early evening rendezvous she was dressed in a stunning Ecuadorian Sun Grown Habano Oscuro wrapper leaf that was dark chocolate brown in color and bathed in glistening natural oils. Her F.I.N.E. 6 x 54 box-pressed Toro frame was sleek, stylish and sexy. She boasted provocative veins that ran up and down her body and visible seams that gave her plenty of sex appeal. She flaunted a cute tattoo of her name in chic red font wrapped around her foot.
Her rich, succulent wrapper envelopes a proprietary binder and a Cuban-seed filler blend of Nicaraguan tobaccos. Her flawless body was firm with just the right amount of 'give' when given the ol' squeeze test. Her wrapper emitted an intoxicating perfume of sweet cedar and earth.
After I was finally done groping her, I whipped out my cutter, gently snipped her cap and massaged her foot with soft butane. She torched easily and off we were on our hour-long tryst.
One would have had to be drunk, dense or totally self-absorbed not to notice the magnetism between us. It was magical, like watching the mating dance of the Great Crested Grebe. Our first kiss opened with sweet cedar, vanilla, earth  and a touch of spice. I found the sweet and spicy opening rather intriguing to say the least.  I love sweet and spicy Latinas who are a little feisty.  They usually evoke an eruption of emotions that I cannot control. My little beau quickly added coffee and plenty of earth to her profile.
As we continued our embrace, I reveled in a moment of intimacy that was tender and sweet but inside I was a simmering cauldron of testosterone ready to explode. I wanted to drink every bit of flavor that my sensual mistress had to offer. As I approached the second third, the cedar was starting to turn up and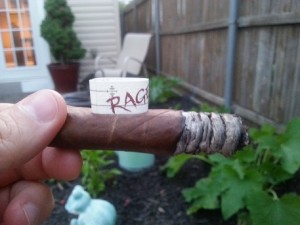 dominate the flavor profile.
She has a very satisfying finish of sweet vanilla and rich cedar that blanketed my lips as the smoke rolled off them. This little temptress maintained a medium-strength profile but ramped up in flavor as the night went on. The Diesel Rage produced a nice even char line with a long, tight, dark charcoal ash that was dense and firm with sexy little smoke rings etched within. Her smoke output was massive  as it danced about creating plumes of smoke that wafted through my garden like a shameless schoolgirl.
Into the second third we went. I took another sip of espresso before I continued to work my way down Rage's irresistible body. Cedar and earth remained prominent but I started to recognize toasted nuts and espresso peeking its way into the profile. The spice was still lingering but not as apparent as earlier. I found this Deisel Rage to be most decadent here in the second third. Her smoke felt quite creamy in the mouth and very satisfying if I may say so. The Rage is the kind of gal who can supercharge any atmosphere. I think most smokers would find her extremely pleasing to the senses while satisfying our most burning desires.
Her construction is as close to perfect as one can get. Her draw is ideal and her creamy smoke slipped from my lips in a passion of communication as though we were meant to be. Billowing plumes of thick white smoke filled the air with a mouthwatering aroma that was thick and palpable, and her slow burn allowed me to exploit her essence that much longer.
Our night cap was incredible. Her burn line remained razor sharp and her flavors remained relatively the same as in the second third. Like earlier, it was rather pleasing. The cedar and earth remained throughout the entire smoke and the toasted nuts and espresso I gathered from the second third also remained here in the final moments of our nocturnal romance.  Her strength crept up a bit to the low end of full, but she is definitely more docile than her stronger, bolder siblings.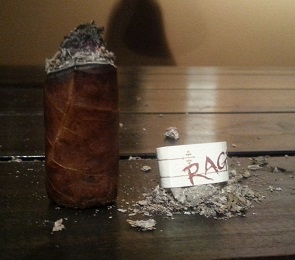 Overall, I really enjoyed my evening alone with Diesel Rage. She bedazzled the pants off me for sure and certainly lives up to all the "Rage". The exotic coupling of her oily Ecuadorian Habano Sun Grown Oscuro wrapper and Nicaraguan fillers definitely makes this gal a worthy companion.  This is definitely a cigar that deserves a spot in every smoker's humidor. She offered an onslaught of flavor and aroma but didn't over power in strength. Her smoke output and burn were sinful and her sweet and spicy persona really intrigued me.  It is important to captivate a man's interest from start to finish and the Diesel Rage does just that. I highly recommend the Diesel Rage to both novice smokers and seasoned veterans alike. The flavor will satisfy, the strength will not overpower and the complexity will amaze.
Specs:
Diesel Cigars rolled at the AJ Fernandez Cigar Factory
Wrapper: Ecuadorian Habano Sun Grown Oscuro
Binder : Proprietary
Filler: Cuban-seed Nicaragua
Strength: Medium – Full
Price: $8  (Limited Edition)
Purchase here at Cigarscity.com